North Hobart, Hobart
North Hobart lies north of the main city center and features a variety of attractions.
Related Attractions
Runnymede House
Runnymede House is an elegant two-story mansion of the mid 19th C set in a beautiful garden, with a view over New Town Bay. It was built around 1837 for a lawyer named Robert Pitcairn who had campaigned for the ending of the transportation of convicts. In 1850 it became the residence of the Anglican bishop, who added the music room, used for receptions and religious services. In 1864 it passed into the hands of a sea captain, who named it Runnymede after his ship. Finally in 1967 it was acquired by the state and handed over to the management of the National Trust. It has since been restored to its 19th C condition.
St Mary's Cathedral
In the grounds of St Mary's College and St Virgil's College is St Mary's Cathedral (RC). It was built in the 1860s on the site of Tasmania's first Roman Catholic church.
Holy Trinity Church
Holy Trinity Church has a fine peal of bells (1847).
Lady Franklin Gallery
In Lenah Valley, is the Lady Franklin Gallery, named after the art-loving wife of Governor Sir John Franklin, who took a major part in the planning of Australia's first public museum. But the gallery, built in 1843 in the style of a Greek temple, did not live up to its founders' expectations. The collections were neglected and the building was used for many years as a warehouse, until in 1936 the Arts Society of Tasmania took it over and restored it to its original function.
Tasmanian Maritime Museum
The Tasmanian Maritime Museum on Secheron Road occupies Secheron House, built in 1831 for George Frankland, surveyor-general of the colony. It commands a fine view of the bay. Inside is a good collection of nautical artifacts showing Tasmania's close links with the sea.
Map of Hobart Attractions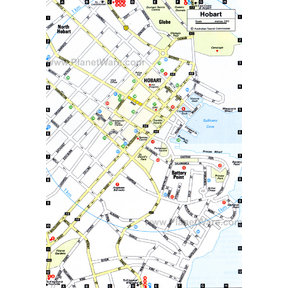 Hobart Map
More Hobart Attractions
Popular Destinations Nearby