City Center, Helsinki
The city center of Helsinki includes the Market Square, the Senate Square, the Esplanade and the Mannerheimintie.
Related Attractions
Market Square
The heart of Helsinki is the Market Square (Kauppatori), which is the scene of lively activity on market days and preserves its particular charm even on cold winter mornings. It lies on the north side of the South Harbor, with an obelisk commemorating a visit to Helsinki by the Russian Empress Alexandra in 1833. From here there are boats to Suomenlinna and to the skerries, and on either side of the harbor are the quays used by the ferries from Sweden. On the north side of the square stands the Town Hall (Kaupungintalo; by C. L. Engel, 1833), with a light blue facade. At the northeast corner of the square is the President's Palace (Presidentinlinna), and beyond it the Guard House. At the west end of the square, between the two boulevards of the Esplanade, is the Havis Amanda fountain (by V. Vallgren, 1908). Beyond this is the popular Esplanadikappeli restaurant, with a stage on which concerts are given in summer. A little way south, on the seaward side of the Eteläranta, is the picturesque old Market Hall (Kauppahalli; 1891).

Katajanokka - Uspensky Cathedral
At the east end of Helsinki's Market Square is a bridge leading on to the island of Katajanokka. Immediately on the left, prominently situated on a hill, stands the Orthodox Uspensky Cathedral (1868), with gilded domes (icons and paintings in interior). The Katajanokka district displays Finnish Art Nouveau architecture at its peak, and it is well worth taking time to look round some of the buildings and into their courtyards. Here too is one of the most impressive of Engel's buildings, the Naval Barracks. After a long period of neglect it has been restored and is now occupied by the Foreign Ministry.
Icebreaker Fleet
Between May and November ships of the Finnish icebreaker fleet lie in front of the Naval Barracks in Helsinki. The Finnish fleet of icebreakers is second only to that of Russia (many vessels of which, some of them nuclear-powered, were built in Finnish yards). On the south side of Katajanokka are the old customs warehouses, now converted into hotels, conference halls and various cultural institutions.
Senate Square contains a statue by W. Runeberg of Tsar Alexander. Surrounding the square are a number of important buildings, including St Nicholas Cathedral.
Map of Helsinki Attractions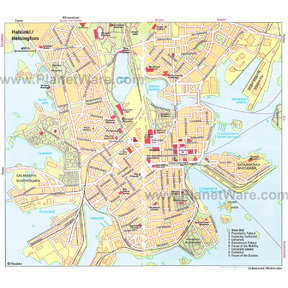 Helsinki Map
More Helsinki Attractions
Popular Destinations Nearby