Heidelberg Castle
Heildelberger Schloss
The Heidelberg Castle can be reached either by the funicular, which runs up from the Kornmarkt (continuing to Molkenkur and Königstuhl), on foot by the Burgweg (15 minutes' walk) or by car on the winding Neue Schlostrasse. Built of red Neckar sandstone on the terraced hillside (alt. 195 m/640ft), the Castle is one of the noblest examples of German Renaissance architecture.
Important Information:
Opening hours:
Jan 1 to Dec 31:
8am-5:30pm
Entrance fee in EUR:
Adult €2.50, Concession or reduced rate €1.20
Guides:
Guided tour included with admission.
Facilities:
Restaurant or food service
This once splendid Electoral residence was built mainly in the reigns of Electors Otto Heinrich (1556-59), Friedrich IV (1583-1610) and Friedrich V (1610-20). After its destruction by the French, who devastated the Palatinate in 1689 and 1693, it has remained a ruin - in situation, size and picturesque beauty the most magnificent ruin in Germany.On the east side of the picturesque courtyard (dramatic performances in summer) is the Ottheinrichsbau (Otto Heinrich Building; 1557-66), the finest achievement of the early Renaissance in Germany. On the lower floor can be found the German Pharmacy Museum (Deutsches Apothekenmuseum). On the north side of the courtyard are the Gläserner Saalbau (Glass Hall) and the Friedrichsbau, one of the outstanding monuments of the mature Renaissance style in Germany (by Johann Schoch, 1601-07), with statues of rulers of the Palatinate (originals inside the building). On the west side is the Frauenzimmerbau (Women's Apartments; c. 1540), with the Königssaal (Royal Hall). Set back a little are the Library (c. 1520) and the Gothic Ruprechtsbau (c. 1400). A passage leads under the Friedrichsbau to the terrace (magnificent view).To the left of the Friedrichsbau, lower down, is the Cellar (Keller) with the famous Great Tun of 1751, which has a capacity of 220,000 liters/48,400 gallons. Opposite can be seen a wooden figure of the court fool Perkeo (c. 1728).From the Great Terrace a superb view can be enjoyed.Three times each summer fireworks are held at the castle to commemorate a fire which destroyed the Palace of Electors during the War of Succession and the castle that struck the castle in 1764.
Related Attractions
Heidelberg Castle Festival
This annual four-week festival runs from late July to late August and includes numerous musical events, ranging from concerts featuring choral and chamber orchestras, to jazz bands and folk groups. At least one opera is also performed every year.Around 20 performances are held in the Heidelberg Castle Ruin or the King's Hall annually.
More Heidelberg Castle Pictures
Map of Heidelberg Attractions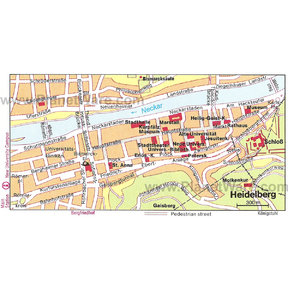 Heidelberg Map
Popular Destinations Nearby