Surroundings, Hilo
There are a number of attractions that can be visited in the areas surrounding Hilo.
Related Attractions
Mauna Loa Macadamia Nut Company Visitor Center
The Island of Hawaii, including Hilo, blessed with its heavy rainfall, tropical sun and lava-covered land, is one of the centers specializing in the growth of macadamia nuts. These originated in Australia and were introduced here as recently as 120 years ago.The Mauna Loa Company began by planting trees, harvesting the first crop eight years later. With its 800,000 trees, the Mauna Loa Macadamia Nut Mill rates today as one of the world's largest producers of these very tasty, yet very fatty, nuts. The production of macadamia confectionery, cakes, biscuits and other items is demonstrated in the visitor center and all these goods can be bought in the shops on the island.
Akaka Falls State Park and Kahuna Falls
Akaka Falls State Park is home to both Akaka Falls and Kahuna Falls. The Akaka Falls are the tallest in the United States, free falling 442 feet. The setting here is quite stunning with lush surroundings of tropical ferns and palms. A short circular hiking trail, with some elevation changes, leads from the parking lot past both Akaka and the equally scenic Kahuna Falls. The trail is paved, but has many steps.
Papaikou - Hawaii Tropical Botanical Gardens
Nature trails within Hawaii Tropical Botanical Gardens pass the three level Onomea waterfalls, vistas of the Pacific and tropical rainforests. The collection displays an array of tropical species. Hawaii Tropical Botanical Gardens is a plant sanctuary, seed bank and study center. There is a special collections of palms, heliconias, banyans, orchids and bromliads. Visitors have a choice of several trails, some going to the ocean.
Nani Mau Gardens
Located just outside Hilo in the rich Panaewa Rainforest, the park contains the largest orchid collection on the Island of Hawaii. It is an ideal place to learn about orchid growing and the numerous varieties of anthuria. One of Hawaii's rare fern gardens, a water lily pond and a Japanese pavilion can also be enjoyed here.
Umauma - World Botanical Gardens
The World Botanical Gardens are situated on 200 acres of land on the slope of Mauna Kea and comprised of over 5,000 species of plants. The gardens contain Umauma Falls, a breathtaking triple-tiered fall.
Map of Hilo Attractions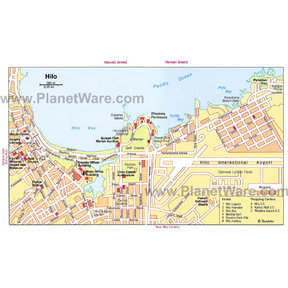 Hilo Map
More Hilo Attractions
Popular Destinations Nearby