Events, Hannover
Hanover is host to a number of events and festivals during the course of the year.
Related Attractions
Music and Theater in Herrenhauser
This annual six-week event, comprises of five festivals between late June and early September. During this time there are daily afternoon and evening events (except on Mondays) in the Herrenhausen Great Garden. The performances range from large-scale operas, symphonic and theatrical performances to smaller chamber and jazz concerts, and dance recitals.The highlight of the six-weeks is the Hannover Light Festival which includes a fire works display set to Handel's "Music for the Royal Fireworks."
Lower Saxony Music Days
Lower Saxony Music Days is a two-month festival that runs from mid-August to late October and includes over 60 different afternoon and evening concerts in over fifty venues. The repertoire is widely varied, including classical works (ranging from Mozart to Poulenc), and more contemporary music, such as rock and jazz.Also noteworthy are the original instruments which are used in many of the classical concerts.The events take place throughout the towns in Lower Saxony.
Festival of Music and Light
This annual festival takes place four times during the summer - early May, early June, mid-August and mid-September. The Herrenhausen Garden is opened for late afternoon musical, choral and dance performances. The finale in mid-September is a fireworks display set to Handel's "Music for the Royal Fireworks."
Maschsee Lake Festival
The annual Maschsee Lake Festival is a three-week event held near the biggest artificial lake in Germany. Water sports demonstrations and competitions combine with street entertainment, open-air theatrical and musical performances and craft and food stalls for a full program designed to please the whole family.
Old Town Festival
This annual festival takes place during the last weekend in August, drawing hundreds of thousands of visitors to the area. During the weekend the Old Town of Hannover plays host to hundreds of rock and jazz musicians, street performers and other entertainers.
Schützenfest
Hundreds of thousands of visitors flock to Hannover between late June and early July for this festival. The festival is over 400 years old and features marksmanship contests, carnivals, and Germany's largest procession. The procession includes flower floats, pipe and brass bands and horse-drawn carriages.
Expo 2000
World Expositions are held every four years in a designated host city. Hanover was the first German city to host an Expo. The main theme of Expo 2000 was "Humankind-Nature-Technology", a theme to promote discussion and presentations offering answers to the question of how the global community can respond to the ecological and economic challenges of the future.Over 170 countries participated in Expo 2000.
Map of Hanover Attractions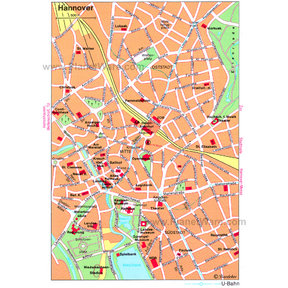 Hanover Map
Popular Destinations Nearby