Wallringpark
At the St Pauli landing stages in Hamburg begin the Wallringpark, a recreation area which takes in the Planten un Blomen park, the Old Botanic Garden and the Kleine and Grosse Wallanlagen, the gardens laid out on the line of the old fortifications. To the south is the Alter Elbpark (Old Elbe Park), with the Bismarck Memorial (on the model of the medieval figures of Roland), erected in 1906.
Transit:
S-Bahn: Dammtor (S11, S21, S31); U-Bahn: Stephansplatz (U1), Messehallen (U2), St Pauli (U3); Bus: 31, 34, 35, 36, 38, 102, 109, 111, 112.
Related Attractions
Museum on History
To the north of the Wallringpark, beyond the Millertordamm, is the Museum on the History of Hamburg (1913-22), now protected as a national monument, with a rich collection of material, including dioramas of the port at various stages in its history, ship models, etc.
Plants and Flowers
North of the Hamburg History Museum, in the Wallringpark extends the popular park known as Planten un Blomen. At its north end are the Congress Center (1973) and the 32-story Hamburg Plaza Hotel.There several fountains, cafes and restaurants in the park.
Congress Center
The Congress Center of Hamburg was opened in 1973 in the north-east corner of the park Planten un Blomen, not far from the Exhibition Grounds and only a few steps from Dammtor Station.
Trade Fair Grounds
At the west end of the Wallringpark in Hamburg are the Trade Fair Grounds, with twelve exhibition halls and a total area of some 60,000 sq. m/72,000 sq. yd.
Tele-Michel
Opposite the northwest entrance to Hamburg's Wallringpark, in Rentzelstrasse, rises the 272 m/892ft high Heinrich Hertz Telecommunications Tower (Fernmeldeturm; 1968), popularly known as "Tele-Michel," with a revolving restaurant at 132 m/433ft.
Map of Hamburg Attractions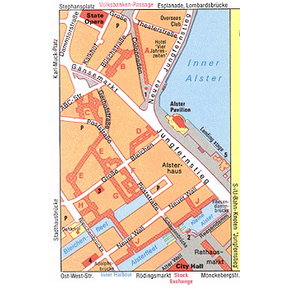 Hamburg Map
More Hamburg Attractions
Popular Destinations Nearby