Port, Hamburg
Hafen
The Port of Hamburg extends over an area of some 100 sq. km/40 sq. mi between the Norder- and the Süderelbe, from the two Elbe bridges in the east to the former fishermen's island of Finkenwerder in the west. It is a tidal harbor, accessible at all states of the tide. Much of it is a free port, enabling imported goods to be transshipped and stored without payment of duty.There are harbor tours by boat.
Related Attractions
Port Harbor Tours
A tour round the Hamburg Port is a fascinating experience. The boats leave from the St Pauli landing stages (Landungsbrücken; museum ship "Rickmer Rickmers"), which are used by all traffic in the port and on the lower Elbe. Nearby is the entrance to the Old Elbe Tunnel (448 m/490yd long) leading to the island of Steinwerder (shipyards).
Hafenrand - Promenade
The Hafenrandpromenade, a pedestrian route round the Hamburg Harbor, runs from the Messberg to the Fischmarkt. It is planned to extend it to Oevelgönne-Neumühlen.
Warehouse District
On the Brookinsel, to the south of the Zollkanal, lies the Hamburg Speicherstadt (freeport area), built at the end of the 19th C. Here are found continuous lines of brick-built warehouses up to seven stories high, used for the storage of tobacco, coffee, rum, dried fruit and spices, as well as optical, mechanical and electronic apparatus, Oriental carpets, etc.
Köhlbrandbrücke
The Hamburg Harbor installations on the left bank of the Elbe are spanned by the Köhlbrandbrücke, a bridge 3.9km/2.5mi long and up to 54 m/177ft high (opened 1974), which has become a new Hamburg landmark.
More Port Pictures
Map of Hamburg Attractions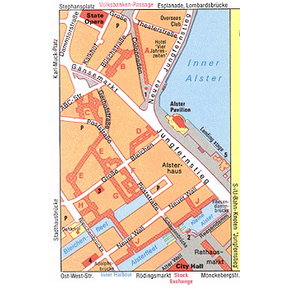 Hamburg Map
More Hamburg Attractions
Popular Destinations Nearby