Eastern Central Area, Hamburg
Hamburg's eastern central area includes the Mönckebergstrasse, the Museum of Art and Industry and St Michaels's Church.
Related Attractions
Mönckebergstrasse
From the Rathausmarkt, the wide Mönckebergstrasse, which is Hamburg's principal shopping and business street and lined with imposing offices and business houses, leads past St Peter's Church (St Petri (founded in 14th C.; rebuilt in neo-Gothic style 1844-49; 133 m/436ft high tower) to the Central Station (Hauptbahnhof), northeast of which is the Schauspielhaus (Theater).The street has large department stores, fashionable stores for all ages, and other specialty shops.
Museum of Art and Industry
Facing the train station in Hamburg, to the southeast, is the Museum of Art and Industry, which ranks after the Bavarian National Museum in Munich as the most comprehensive display of German, European and Asian applied art in Germany (in particular china, furniture and silver from northern Germany and the Netherlands and applied art from East Asia) and a collection of works by Kokoschka.
Markthalle & Deichtorhallen
South of Hamburg's train station are the Markthalle (communications center) and the Deichtorhallen (restored and reopened in 1989; art exhibitions).The Deichtorhallen are the largest exhibition halls of their kind in Europe with over 6,000 sq. m. of exhibition space.
St James's Church
To the south of Hamburg's Mönckebergstrasse, in Steinstrasse, can be found St James's Church (14th C., restored 1959 after severe damage in the Second World War), with medieval altars and an Arp Schnitger organ.
Chile House
South of Hamburg's St James Church, in Burchardplatz, is the boldly conceived ten-story Chilehaus (by Fritz Höger, 1922-24), perhaps the best-known building in the business quarter. Nearby is the Sprinkenhof (by Fritz Höger and H. and O. Gerson, 1927-31). Farther east stands the Cityhof (1956), a group of four 42 m/138ft high office blocks.
Ost-West-Strasse
From Hamburg's Messberg, a busy square on the south side of the Chilehaus (Messberghof, in clinker brick; by H. and O. Gerson, 1923-25), the wide Ost-West-Strasse leads west past St Catherine's Church (St. Katharinen; 14th-17th C., rebuilt 1956) and the 147 m/482ft high Nikolaikirchturm, the tower of St Nicholas's Church (completely destroyed during the Second World War) and over the Nikolaifleet, Alsterfleet and Herrengrabenfleet into the new town (Neustadt).
St Michael's Church
In the new town is Hamburg's traditional emblem and landmark, the Baroque St Michael's Church (by E. G. Sonnin, 1750-62). From the 132m/433ft high tower, familiarly known as "Michel" (lift), there are fine views. In a courtyard to the east are the Krameramtswohnungen, dwellings originally built to house the widows of members of the Krameramt (Shopkeepers' Guild). In House C is a museum.
Eastern Central Area Pictures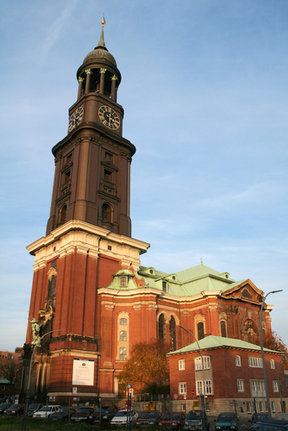 Map of Hamburg Attractions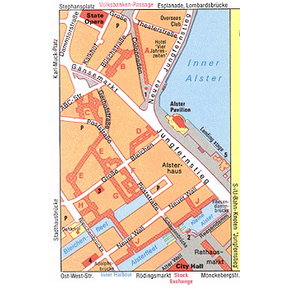 Hamburg Map
More Hamburg Attractions
Popular Destinations Nearby