Central Area
Related Attractions
Inner Alster
The townscape of Hamburg owes its particular charm to the large basin of the Binnenalster, in the center of the city, round which run the elegant Jungfernstieg (with the Alsterpavillon cafe and the landing-stage used by the Alster boats) and the Ballindamm (with the offices of the Hapag-Lloyd shipping line, founded in 1847 as HAPAG). To the west of the Neuer Jungfernstieg, in Dammtorstrasse, is the State Opera House (Staatsoper; 1855).
Passagen
West and southwest of the Binnenalster in Hamburg the creation of pedestrian zones in recent years has added a number of new passagen (shopping arcades and lanes) to those already existing. Lined with shops, boutiques, restaurants, etc., they make this a pleasant area in which to stroll about.
Outer Alster
Pöseldorf
Immediately west of the parks and gardens in Hamburg's Outer Alster is the redeveloped Pöseldorf area (galleries, boutiques, cafes and bars, etc.; painted house fronts).
Fleets
To the south of the Binnenalster in Hamburg are a number of canals (fleete), with locks, linking it with the Elbe (Herrengrabenfleet, Bleichenfleet, Alsterfleet and Nikolaifleet; sightseeing cruises). These canals mark the division between the old town (Altstadt) and the new town (Neustadt).
Art Gallery
To the east of the Ballindamm in Hamburg, on the Glockengiesserwall, stands the Kunsthalle, an art gallery (altar pieces by Meister Bertram of Minden and Meister Francke, works by Philipp Otto Runge and Caspar David Friedrich and minor Dutch masters; important special exhibitions).
Town Hall
In the center of Hamburg's old town is the Rathausmarkt, with the Town Hall (1886-97), a sumptuous neo-Renaissance building. Behind it is the Stock Exchange (Börse).
Map of Hamburg Attractions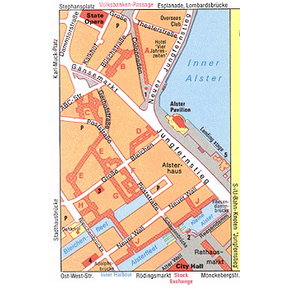 Hamburg Map
More Hamburg Attractions
Popular Destinations Nearby