Halifax Citadel National Historic Site
The hill on which the citadel stands (Halifax Citadel National Historic Site) is in downtown Halifax, rather like Mont-Royal in Montréal. The top of what was a precipitous, tree-covered hill was leveled off to build the garrison which has been part of the townscape since the 18th C.There is an exhibition in the old Powder magazine, with exhibits about communication methods and the construction of the Citadel. A replica of the defense casement and a garrison cell can also be seen.
Halifax Citadel National Historic Site Map
Important Information:
Address:
Box 9080, Halifax, NS B3K5M7, Canada
Opening hours:
May 7 to Jun 30:
9am-5pm
Jul 1 to Aug 31:
9am-6pm
Sep 1 to Oct 31:
9am-5pm
Entrance fee in CAD:
Family $29.40, Adult $11.70, Senior over 65 $10.05, Child 16 & under $5.80, Child 6 & under FREE
Useful tips:
Prices are reduced in the spring and fall. Only the grounds are open during the winter months.
Related Attractions
Citadel Road
Easily reached by car from the city center along Citadel Road, the Citadel has excellent views of the city, the harbor, Dartmouth, little George Island and the Angus McDonald suspension bridge.Three citadels stood here before the foundation stone for the present star-shaped construction was laid in 1828 on the order of the Duke of Wellington. The entrance is by a bridge over a wide, dry moat. Infantry and artillery drills are re-enacted in summer on the parade ground in the center. Visitors can walk along the top of the earthworks and see the cannons that were the citadel's main means of defense. They can also go through a tunnel under the moat, marvel at the mighty walls, and look at the cannon-proof outer defenses. This outer wall also contains a musketeers gallery for shooting at anyone who managed to get as far as the moat.
Old Town Clock
The Old Town Clock, which has become the symbol of Halifax, was originally commissioned by Prince Edward in 1803. It has four clock-faces and chimes, and is an enduring memorial to the punctuality of that strict disciplinarian. There are guided tours and a snack bar.The Old Town Clock is part of the Halifax Citadel National Historic Site of Canada.
Army Museum
Housed in the casements, the Army Museum has a number of interesting models from the Halifax region and a collection of weapons, uniforms and decorations.The Army Museum is part of the Halifax Citadel National Historic Site of Canada.
Halifax Citadel National Historic Site Pictures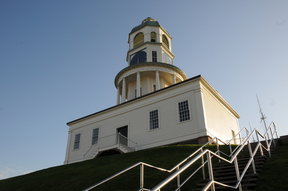 Map of Halifax Attractions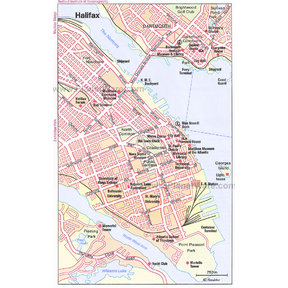 Halifax Map
More Halifax Attractions
Popular Destinations Nearby