Frans Hals Museum, Haarlem
The Frans Hals Museum was established in a former old people's home - the fourth important building by Lieven de Key in Haarlem (1608) - at Groot Heiligland 62 in 1913, when the municipal art collection was transferred here from the Town Hall. It now occupies a leading position among the art galleries of the Netherlands, giving a predominant place to the work of Haarlem artists.
Important Information:
Address:
Groot Heiligland 62, Haarlem, Noord-Holland 2001 DJ, Netherlands
Opening hours:
11am-5pm; Sun: 12pm-5pm
Always closed on:
New Year's Day (Jan 1), Christmas - Christian (Dec 25)
Entrance fee in EUR:
Adult €7.00, Group discounts €5.25, Child 17 & under FREE
Useful tips:
Sometimes open in the evenings with candlelight and music.
Transit:
1, 4, 5, 6, 71 and 72
Related Attractions
Haarlem Academy
The flourishing economy of Haarlem and the religious tolerance which prevailed after the withdrawal of Spanish troops in 1576 attracted many refugees, particularly from what is now Belgium, and fostered a great cultural flowering. In 1583 Carel van Mander, a Flemish painter, came to Haarlem and, influenced by his study of Italian Renaissance art, developed the practice of painting large pictures on Biblical and historical themes, based on a profound knowledge of anatomy. With Hendrick Goltzius and Cornelis Cornelisz he founded the "Haarlem Academy", which marks the high point of Dutch Mannerism. Of particular significance in this respect were the allegorical and mythological figures in rather contrived postures painted by Cornelisz, particularly in erotic scenes. His group portraits of marksmen's guilds prepared the way for Frans Hals, the liveliest and most expressive of all Dutch painters, whose group portraits of marksmen and regents rank as the principal treasures of the museum.
Frans Hals Museum Collection
The first groups to commission portraits of this kind seem to have been the marksmen's guilds - companies of volunteers, elected every three years from among the more prosperous citizens to form a kind of civic militia or town guard. The first group portraits (doelenstukken), painted in Amsterdam in the early 16th century, were merely an assemblage of individual portraits. Frans Hals contrived to combine the individual members of the group in a dynamic scene of action with something of the effect of a snapshot, as in his pictures of the farewell banquets of the marksmen's guilds of St George (1616) and St Adrian (1627).Frans Hals also painted group portraits of regents (the governors of merchants' guilds and charitable institutions), such as his portraits of the regents and regentesses of the old men's home (both painted in 1664). The collection also includes many 17th century portraits, still lifes, genre scenes and landscapes (Adriaen van Ostade, Jacob van Ruisdael, Johannes Verspronck, Jan de Bray, Pieter Claesz, Willem Heda, etc.), as well as Haarlem silver, an old doll's house and a reconstruction of a pharmacy with jars of Delft ware.
Frans Hals Museum Modern Art
Frabs Hals Museum's collection of modern and contemporary art includes pictures, sculpture, textiles, ceramics and graphic art by artists from Haarlem and the surrounding area including Isaac Israël, Jan Sluyters, Karel Appel, Reinier Lucassen and Herman Kruyder.
Map - Frans Hals Museum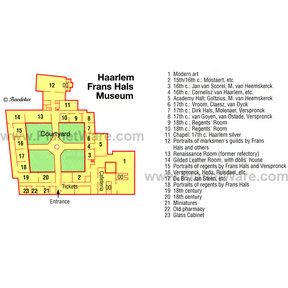 Map - Haarlem Frans Hals Museum
Map of Haarlem Attractions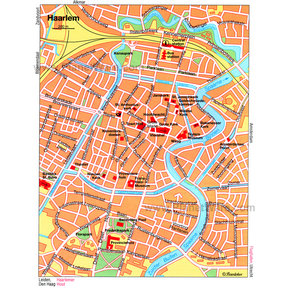 Haarlem Map
More Haarlem Attractions
Popular Destinations Nearby