Basse-Terre Tourist Attractions
Visitors to this, the capital of Guadeloupe will see one of the oldest French settlements in the Caribbean lying in the shadow of the Soufrière volcano. Banana boats fill their holds at the harbor, and the town offers the sightseer many examples of French colonial heritage, as well as modern government buildings. Points of interest include Fort St-Charles, the town square, the Cathedral and the botanical gardens.The town was founded in 1640 and has been at the center of the colonial history of the archipelago. Basse-Terre was twice occupied by British forces and torn by the French Revolution, Napoléonic suppressions and anti-slavery conflicts, Hurricanes and volcanic eruptions have helped restrict the size of the town.
Etang As de Pique
The visitor who ascends the trail to this 748m/2,454ft height will find one of the largest of the mountainside lakes formed in craters on the volcanic massif of la Soufrière. Surrounded by lushly covered hillsides Etang As de Pique is isolated and quiet.
Fort St-Charles (Fort Louis Delgrès)
Begun in 1640 and named in honor of the founder of Basse-Terre, Charles Houël, this large colonial fortress was the first building of the town to be erected. The visitor will find it well preserved, standing on a prominent hill in the town's southern end. The fort contains a historical museum and the graves of two famous French officers, General Richpance and Admiral Gourbeyre.Also called Fort Louis Delgrès.
Zoological and Botanical Park
Visitors who ascend to this 457m/1500ft hilltop garden on the banks of the Rivière aux Hérbes will find a reserve of plants and animals of Guadeloupe at the Basse-Terre Zoological and Botanical Park. Numerous small animals, such as land turtles, raccoons and iguana live among the trees and bushes.
Colonial Buildings
Colonial period architecture can be seen throughout the town of Basse-Terre. Prominent examples include the Préfecture buildings, the Cours Nolivos townhouse, and the church of Notre-Dame du Mont-Carmel.
Place du Champ d'Arbaud (Jardin Pichon)
The visitor can seeBasse-Terre's main square Place du Champ d'Arbaud and the adjoining park, Jardin Pichon to the south. Colonial buildings line the streets around, and a war memorial marks the center of the square.
Cathedral of St Peter and St Paul
The Cathedral of St Peter and St Paul in Basse-Terre is a 19th C building with a notable facade of gray stone highlighted by white statues.
Map of Basse-Terre Attractions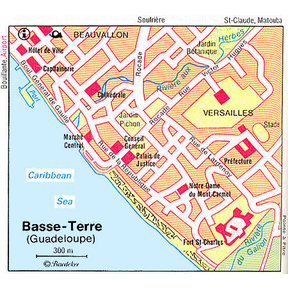 Map - Basse-Terre