Syros Attractions
Area of island: 82 sq. km/32 sq. miChief town: Ermoúpolis (Néa Syros)The hilly island of Syros lies half way between Kythnos and Mykonos.
St George's Cathedral
On the northern hill outside the town of Ermoupolis is the Roman Catholic quarter of Áno Syros, established during the Venetian period (13th C.), with a number of monasteries as well as St George's Cathedral.
Mt Pyrgos
Mt Pyrgos, the highest peak (415m/1362ft) on the island of Syros, can be climbed from Áno Syros. From the summit there are beautiful views in all directions.
Posidonia, Greece
15km/9mi southwest of Ermoúpolis lies the popular seaside resort of Posidonía (formerly known as Santa Maria della Grazia). Near the town is an ancient necropolis.
Kastri, Greece
12km/7.5 mi north of Ermoúpolis, at the village of Khalandrianí, is the fortified Cycladic settlement of Kastrí (C. 1800 B.C.).A prehistoric acropolis, a settlement and a burial ground at Khalandrianí and Kastrí have yielded artifacts of the Early Cycladic period.
Grammata Bay
West of Khalandriani on the island of Syros lies Grammatá Bay, in earlier times a welcome harbor of refuge, with Roman and medieval inscriptions (expressions of thanksgiving, prayers).
Gyaros
Area of island: 37 sq. km/14 sq. mi.Gyáros, an arid and barren island, lies in the Cyclades northwest of Syros. After WWII, particularly under the military dictatorship, it was a place of internment and a penal colony.The island of Gyáros was closed to the public for many years but that ban has since been lifted and people may now visit.
Archaeological Museum
Founded in 1835 the Syrose Archeological Museum is the oldest archaeological museum in Greece. On display are finds from Kastri and the cemetery at Chalandriani, as well as Syros and other sites of the Cyclades. Some of the items date to the Early Bronze Age.
Gálissas
Galissas is a large resort village on Syros, with a long sandy beach. This is a popular summer time destination.
Possidonia (Delagratsia)
Possidonia, on the island of Syros, is known for its beaches and interesting archiecture.



Map of Syros Attractions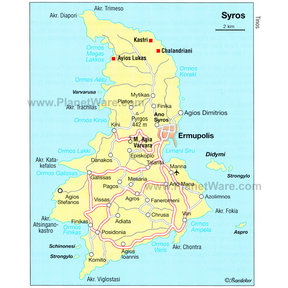 Map - Syros