Patras Tourist Attractions
Patras is the largest town and principal port of the Peloponnese, chief town of the nomos of Achaea, the see of an archbishop and a university town.The town was founded about 1100 B.C., but became of importance as a port only in Roman times. After the fourth Crusade it became the see of a Roman Catholic archbishop. In 1408 it came under the control of Venice and in 1430 of Mistra. In 1460 it fell into the hands of the Turks, by whom it was destroyed in 1821, at the beginning of the war of liberation. Thereafter it was rebuilt in neo- classical style on a rectangular street layout.Ferry services from Ancona and Brindisi in Italy. Boat connections with the islands of Kefalloniá, Paxí and Corfu. Station on the Athens-Corinth-Pyrgos railraod line.Bus connections with Athens and Pyrgos.
Acropolis & Roman Odeion
The main part of the town of Pátras lies between the harbor in the west and the acropolis in the east. On the acropolis (alt. 103m/338ft) is the Kástro, originally built by the Byzantines in the sixth century and rebuilt by the Crusaders in the 13th century. Southwest of the Kástro is a Roman Odeion.The Roman Odeion is in an excellent state of preservation and is used from time to time for theatrical performances.
Patras Municipal Theatre & Folk Museum
In the central square of Patras is the Municipal Theatre, and to the north of this the interesting Folk Museum.The Municipal Theatre is an exceptionally elegant building with an Italian influence.Performances in the Patras amphitheater are held annually between the end of June to mid September during the Patras Festival. The performances include drama, music and ballet.
St Andrew Church
At the southwest end of the Patras harbor, on the site of an ancient sanctuary of Demeter, is the large church of Áyios Andréas (1836), with a reliquary containing the skull of St Andrew, who is traditionally believed to have been martyred at Patras in A.D. 60.
Patras Carnival Festival
The internationally-established Patras Carnival Festival runs annually in February or March.There are long and merry procession of King Carnival among other festivities. People dress in costumes and go about the streets of Patras on the last Sunday of the Carnival, throwing chocolates at crowded balconies and onto the pavements.
Patras Archeological Museum
The Patras Archeological Museum has important Neolithic, Mycenaean, Archaic, and Roman finds. Among its exhibits there is also a rich collection of vases and weapons.
Georgios I Square
In Patra's Georgios I Square, there are houses in perfect, neo-classical Greek style, with arcades that are a characteristic feature of Patras.
Patras Festival
The Patras Festival is held annually from mid-August to mid-September. Various theatrical performances are on offer throughout the festival.
Patras International Art Festival
The annual Patras International Festival runs from June to August. It includes artistic performances, art exhibitions and other festivities.
Map of Patras Attractions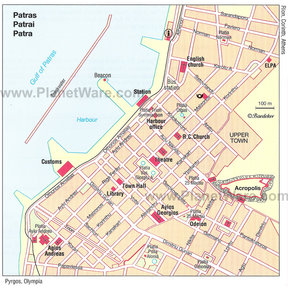 Map - Patras