Palacio de Carlos V, Granada
On the east side of Granada's Plaza de los Aljibes is the palace built for the Emperor Charles V by Pedro Machuca. Begun in 1526 but never completed, the palace was paid for by a special tax imposed on Moors who had remained in Granada after its reconquest. The palace is a massive structure 65m/207ft square and 17m/57ft high. Even in its unfinished state the palace, with its sober facade, is the finest example of High Renaissance architecture in Spain. Apart from the facade the only part completed is the pillared inner courtyard, a two-story rotunda with Doric columns in the lower gallery and Ionic columns in the upper gallery.
Palacio de Carlos V Highlights
Provincial Museum of Art
On the upper floor of the Palacio de Carlos V is the Provincial Museum of Art, which is mainly devoted to artists of the Granada school. The sculpture on display includes an "Entombment" by Jacobo Florentino, Alonso Cano's "St John of God" and figures by Pedro de Mena and Diego de Siloé. The pictures include many by Alonso Cano and works by Fray Juan Sánchez Cotán (who lived in the Cartuja), Pedro de Raxis, Pedro Anastasio Bocanegra, Juan Ramírez and Juan de Sevilla.
National Museum of Hispano-Muslim Art
On the ground floor of the Palacio de Carlos V in Granada, the National Museum of Hispano-Muslim Art has a large collection of decorative objects from the period of Moorish rule in Spain, including many items from the Alhambra. These include glassware, ceramics, ornamental friezes and - the Museum's principal treasure - the 1.3m/4ft 3in. high Alhambra Vase (Jarro de la Alhambra), which dates from 1320.
Santa Maria
On the east side of the Palacio de Carlos V stands the church of Santa María, built between 1581 and 1618 on the site of the Alhambra mosque, in which the first mass after the recapture of Granada was said. To the right of the main doorway is a column commemorating the death of two Christian martyrs in 1397.
Map of Granada Attractions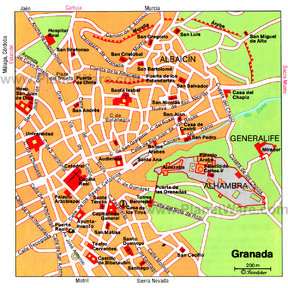 Granada Map
More Granada Attractions
Popular Destinations Nearby