Cathedral of St Mungo, Glasgow
The most significant historic building in Glasgow is the cathedral and its length of 295ft/90m makes it the largest church in Scotland after St Andrews. In line with the presbyterian constitution of the Church of Scotland, there is no bishop but the building, situated to the east of George Square, is still referred to as "Glasgow Cathedral".David I commissioned the first chapel on this site in 1136, but it was destroyed by fire a few years later.
Cathedral of St Mungo Map
Important Information:
Address:
Castle Street, Scotland
At the end of the 12th century Bishop Jocelin ordained that the chapel be rebuilt. The Lower church, chancel and tower had been rebuilt by the mid-13th C and the chapterhouse and sacristy were completed in 1447. In 1480 the nave was finally consecrated. The window on the west front showing Adam and Eve in Paradise also dates from about this period. Seen from both inside and out, the cathedral looks as if it has come out of a mold. The lines are clear and there is no superfluous ornamentation. In the well-proportioned nave, it is worth having a look at the screen - a rare feature in Scotland. The figures around the altars represent the seven deadly sins. Projecting from the south transept is the Blacader Aisle named after the first bishop of Glasgow. Note the richly decorated ribbed pillars and fine bosses.
Cathedral of St Mungo Highlight
Crypt
The grandest room in the cathedral, the crypt or lower church, houses the tomb of St Mungo, who founded the bishopric in the sixth century and was buried here in 603. Pre-Reformation Gothic fan vaulting, ribbed pillars and capitals embellished with flowers are the most distinctive features.
Map - Cathedral of St Mungo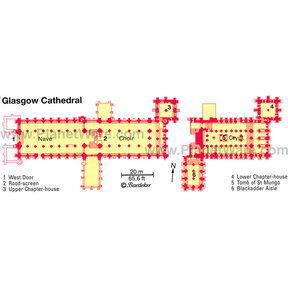 Map - Glasgow Cathedral
Map of Glasgow Attractions
Glasgow Map
More Glasgow Attractions
Popular Destinations Nearby