Museum of Fine Arts, Ghent
Museum voor Schone Kunsten
From the Bijlokemuseum the Charles de Kerchovelaan leads southeast to the De Liemaeckerplein, where the Museum voor Schone Kunsten (Museum of Fine Arts) is situated.The museum building with staircase and colonnaded doorway is dated 1904 and was enlarged in 1913. The main emphasis of the collections is painting covering the 15th-20th C.
Important Information:
Address:
Fernand Scribedreef 1, B-9000 Ghent, Belgium
Opening hours:
Jan 1 to Dec 31:
9am-5pm; Closed: Mon
Always closed on:
New Year's Day (Jan 1), Christmas - Christian (Dec 25), Day after Christmas, St Stephen's Day, Boxing Day (Dec 26)
Museum of Fine Arts Highlights
Museum of Fine Arts Tapestries
The central hall adjoining the entrance hall has eight fine Brussels wall tapestries: three with motifs from the story of Darius (17th C.) and five with the theme "Triumph of the Gods" (1717).
Museum of Fine Arts Old Masters
Left of this hall are to be found the Old Masters. Prominent are two works by Hieronymus Bosch in Room B: "Bearing of the Cross" and "St Hieronymus". Other works are by Flemish and old Dutch masters such as Adriaan Isenbrant ("Seated Madonna and Child"), the Ghent miniaturist Gerard Horenbaut, Frans Pourbus the elder (Room D), Rubens ("Scourging of Christ"; Room E), van Dyck, Jacob Jordaens (Room G) and Frans Hals ("Portrait of an Elderly Lady; Room L). Representatives of Italian painters are Tintoretto and Magnasco (Room F); the English department has two paintings by Hogarth and one by Reynolds.
Museum of Fine Arts 19th and 20th Centuries
To the right of the Tapestry Room are paintings of the 19th and 20th C. especially Belgian artists. In Room 4 are Henri Evenepoel ("Spaniard in Paris"), Emile Claus and James Ensor; also Constant Permeke (Room 5) and among others the Sint-Martens-Latern group with Gustave de Smet (Room 13). In Room 6 there is a painting by Oskar Kokoschka; Camille Corot and Théodore Géricault represent the French school (Room 1).
Museum for Contemporary Art
Since 1976 the Museum voor Hedendagse Kunst (Museum for Contemporary Art) has been an independent museum under the same roof. It shows modern art post-1945 with the main emphasis on the development of Belgian painting. The rooms of this museum in the left wing adjoin the Old Masters.On display are the movements and schools COBRA, Hyperrealism. Minimal Art, Concept Art and Pop Art artists such as Andy Warhol, Frances Bacon, David Hockney, Panamarenko and Joseph Beuys; Belgian artists include René Magritte, Paul Delvaux, Karel Appel and Marcel Broodthaers.
Map of Ghent Attractions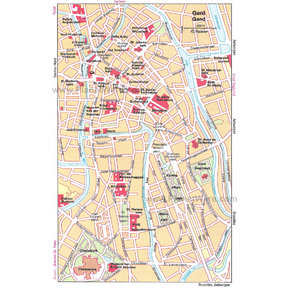 Ghent Map
More Ghent Attractions
Popular Destinations Nearby