Kasteel van Ooidonk
To the south of Ghent, past Bachte Maria-Leerne, Deurle borders the park of the Château of Ooidonk.The original château was built in the 13th C. and burnt down in the 15th. The new building of 1595 was in Flemish-Spanish style with stepped gables and small towers finished with onion- shaped pinnacles. There are two wings off the main building, each ending in a side tower. The house, redesigned in the 19th C., is still inhabited by the Baron de Nevele but is open to visitors.Of interest are the paintings, including portraits of the Counts Hoorn and Egmont, and items belonging to the Royal Family.
Important Information:
Opening hours:
Jul 1 to Sep 15:
Closed: Mon, Tue, Wed, Thu, Fri, Sat
Related Attractions
Sint-Martens-Latem, Belgium
About 8km/5miles southwest of Ghent is the town of Sint-Martens-Latem, the patron saint of one of the most important schools of Belgian fine arts. In 1897 a group of artists settled in the town around the sculptor George Minne, among whom were Gustav van de Woestijne and Valerius de Saedeleer. Their work was stopped by the First World War; during the 1920s a second group became known, including Albert Servaes, Constant Permeke, Gust de Smet and Frits van den Berghe, all of whom lived and worked in the town or nearby.A large number of galleries still have collections of this period; the town church has many paintings by the above artists.
Deurle, Belgium
The small village of Deurle on the Leie, 12km/8miles southwest of Ghent, consists of villas in the middle of gardens and parks. There are three interesting art museums dedicated to the various members of the Sint-Martens-Latem School.
Deurle - Museum Gust de Smet
The Ghent painter Gust de Smet (1877-1943) lived in Deurle from 1935 onwards. His house and studio have been maintained in their original condition.
Deurle - Museum Léon de Smet
Léon, the brother of Gust de Smet, (1881-1966), also lived in Deurle. His house has been reconstructed with his furniture and possessions.
Museum Mevrouw Jules Dhondt-Daenans
Built on the Leie in 1969 this museum exhibits important works of the Sint-Martens-Latem School and 19th and 20th C. Belgian art in general, in chronological order.Artists represented include Servaes, de Smet, Permeke, van den Berghe, Claus, Minne, de Saedeleer, Meunier, Evenepoel and Rik Wouters.
Kasteel van Ooidonk Park
The château stands in beautiful park land which nestles in a bow in the Leie.
Deinze, Belgium
The end of the Leiestrek is Deinze, 18km/11mi from Ghent. It has a Gothic church with a painting by de Crayer and a local museum housing archaeological finds, exhibits from the town's history and paintings of the Sint-Marten-Latem School.
Map of Ghent Attractions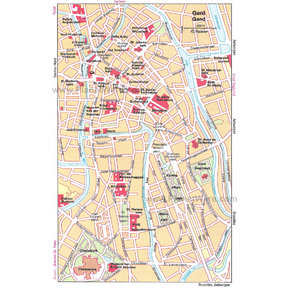 Ghent Map
More Ghent Attractions
Popular Destinations Nearby