Old Town, Gerona
The old town rises up the right bank of the Onyar. Between the railroad bridge in the north and the Plaza de Cataluña spanning the river in the south a colorful line of old houses flanks the river, dominated by the church of San Feliú and the cathedral. Parallel to the riverbank is the Rambla de la Libertat (pedestrian zone), the main street of the old town, lined with arcades, shops and pavement cafes.
Related Attractions
San Feliú (Sant Fèlix)
Near the north end of the old town stands the former collegiate church of San Feliú (11th-18th C.), a Gothic structure with very low aisles in which are Late Romanesque galleries with sculptured capitals. The choir was completed in 1318; the west front dates from the 17th century. The tall tower, originally Gothic, was struck by lightning in 1581 and was considerably altered in the subsequent rebuilding.

San Feliú- Interior
The church of San Feliú in Gerona is entered through the doorway on the south side. There are no transepts, but on the north side is the vaulted Baroque chapel of San Narciso (dedicated to St Narcissus, bishop of Gerona in the time of Diocletian). In the choir, which has a carved Gothic altar, are a number of sarcophagi of the second-sixth centuries A.D.
Portal de Sobreportes
Going along the south side of Sant Fèlix, we come to the Portal de Sobreportes, a massive town gate flanked by two towers, beside which is the Neo-Classical church of San Lucas (Catalan Sant Lluc).
Plaza de la Catedral
Beyond the Portal de Sobreportes in Gerona is the little Plaza de la Catedral, most of which is taken up by the Baroque staircase of 90 steps (1690) leading up to the cathedral.
Casa Pastors
Opposite the foot of the steps in the Plaza de la Catedral is the palace of the Pastors family, which was given its present aspect in the 18th century. It is now occupied by the Law Courts.
Museo de História
In Carrer de la Força, which runs south from the square in front of the cathedral, is an old Capuchin friary which now houses the Museo de História, a museum on the history of the town, concentrating particularly on the prehistory of the region and the age of industrialization (19th-20th C.). The part of the old town which extends south from here was until the 15th century the Jewish quarter of Gerona.
Map of Gerona Attractions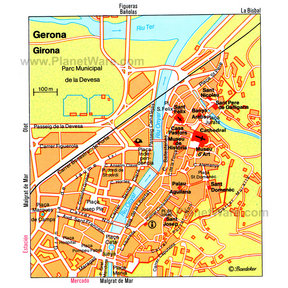 Gerona Map
More Gerona Attractions
Popular Destinations Nearby