Surroundings, Heidelberg
Related Attractions
Königstuhl
7km/4.5mi east of Heidelberg rises the Königstuhl (568 m/1,864ft; funicular), with an 82 m/269ft high television tower. There are extensive views of the Rhine plain, Neckar valley and Odenwald.
Mauer
Southeast of Heidelberg is Mauer (reached by way of Neckargemünd), where Heidelberg Man was discovered. There is a Prehistoric Museum.
Schloss, Schwetzingen, Germany
12km/7.5mi west of Heidelberg, in the Rhine plain, is Schwetzingen, famed as a center of asparagus-growing. It has an 18th C. palace, Schloss Schwetzingen, which was a summer residence of the Electors of the Palatinate (concerts in summer). The Schlossgarten (73 hectares/180 acres), laid out partly in the French and partly in the English style, contains a number of 18th C. buildings (including a Roccoco theater by Nicolas de Pigage, 1746-52; festival performances) and works of sculpture.A more modern feature of Schwetzingen is the Bellamar bathing center (whirlpool, flume, sauna, solarium, games rooms, etc.).
Schwetzingen Festival
Schwetzingen Festival is an annual two-month event that runs from late April to mid-June and includes a wide array of events. Since 1952, the festival has offered over 30 annual events, including operas, symphonic, choral and chamber concerts, recitals and dance performances.The repertoire varies from classical to contemporary and the events take place both inside the Schwetzingen Palace and outdoors in the Palace Park.The palace itself is known as the place where Voltaire once took refuge and where Mozart performed as a 7-year-old boy.
Hockenheim, Germany
Hockenheim, a few kilometers south of Schwetzingen, is famed for its Grand Prix racing circuit (Motodrom). There is a Motor Sport Museum, with many motorcycles and racing cars, a multi-media show and a collection of documents. At Obere Hauptstrasse 8, in the town center, is a Tobacco Museum. Also in the town is the Aquadrom swimming pool.
Weinheim an der Bergstrasse, Germany
The town of Weinheim an der Bergstrasse, has preserved part of its medieval walls. In the old town are the Old Town Hall (1554) and historic old half-timbered houses. Higher up is Schloss Berckheim, set in a beautiful park.Above the town are the ruins of Burg Windeck (12th-13th C.; view). Still higher up is the Wachenburg (1913).
Surroundings Pictures
Map of Heidelberg Attractions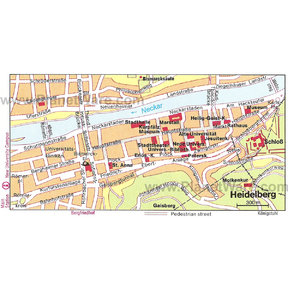 Heidelberg Map
More Heidelberg, Germany Attractions
Popular Destinations Nearby