Surroundings, Bremen
The state of Bremen is located in Northwestern Germany.
Related Attractions
Worpswede, Germany
Worpswede, 23km/14mi northeast of Bremen, is famed as an artists' colony (Vogeler, Modersohn, Mackensen, Hans am Ende, etc.; permanent art exhibitions) and is on the Teufelsmoor.
Bremerhaven, Germany
Situation and characteristicsBremerhaven lies 57km/35mi north of Bremen at the junction of the Geeste with the Weser, just before the Weser flows into the North Sea. It is part of the Land of Bremen, though separated from Bremen itself by a stretch of Lower Saxon territory. Bremerhaven is a thriving port, with the largest fishing harbor in mainland Europe and extensive docks handling ocean-going vessels, as well as an institute of marine research.
Port
Fishing harbor of BremerhavenThe most southerly part of the port installations which extend along the Weser is the fishing harbor, where about half the whole German catch of fish is landed. It is interesting to watch the fish auctions held when the boats come in with their catches.
North Sea Museum
The North Sea Museum (marine flora and fauna) is between Bremerhaven's fishing harbor's double sluice-gates and the landing stage of the Weser ferry and is run by the Alfred Wegener Institute of Polar and Marine Research.
Morgenstern Museum
The Morgenstern Museum in Bremerhaven's Geestemünde district focuses on prehistory, history of the town and local traditions.
German Shipping Museum
Beyond the Geeste in Bremerhaven's Old Harbor is the German Shipping Museum, housed in a building designed by Hans Scharoun. Notable among the exhibits is a Bremen "kogge" (a Hanseatic merchant ship). Among the historic old ships in the harbor are a Mark XXI submarine and a four-master, the "Seute Deern" (restaurant).On the harbor stands a 112 m/367ft high radar tower (viewing platform). On the east side is the Columbus-Center (tower blocks; 1978).
Sea Zoo
On the Weserdeich in Bremerhaven is the Zoo am Meer (seals, polar bears, etc.; aquarium).
Container Terminal
The container terminal in Bremerhaven's port is the largest of its kind in Europe (viewing platform on the main building).
Speckenbüttel
Open-Air Museum
In Bremerhaven's northern district of Speckenbüttel is the Speckenbüttel Open-Air Museum, with 17th C farmhouses from Lower Saxony.
Surroundings Pictures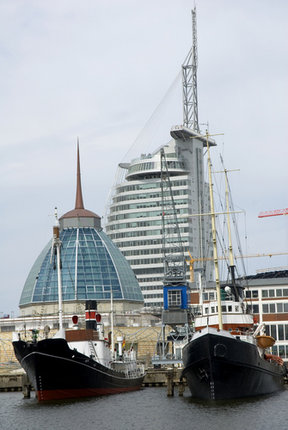 Map of Bremen Attractions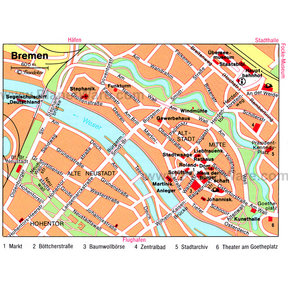 Bremen Map
More Bremen Attractions
Popular Destinations Nearby