Ansbach Tourist Attractions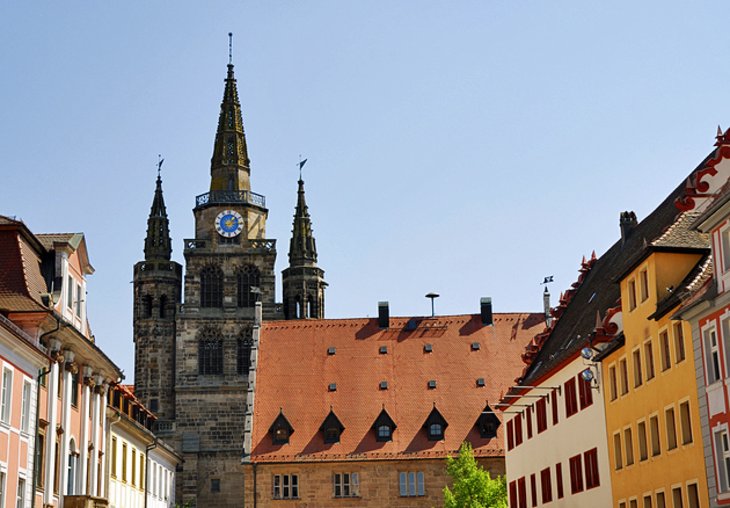 Ansbach
Ansbach, in the valley of the Rezat, is the chief town of Central Franconia and an important traffic junction. Once the residence of the Margraves of Brandenburg-Ansbach, it is famed for its Rococo architecture.
Margrave's Palace
At the end of the Promenade in Ansbach stands the former Margrave's Palace, one of the most important 18th C. palaces in Franconia, with 27 state apartments (Great Hall and Mirror Room in early Rococo style). It now houses the Bavarian State Collection of Ansbach faience and porcelain and the Staatsgalerie (17th and 18th C. pictures).
Court Garden
The Hofgarten in Ansbach has the 102m/335ft long Orangery (1726-34; now used for conferences and other events) and a stone commemorating the enigmatic foundling Kaspar Hauser who was stabbed to death here in 1833. (There is also a commemorative monument in Platenstrasse in the town center).
Gambertus Church
In Johann-Sebastian-Bach-Platz in Ansbach is the three-towered Gambertus Church (Protestant; occasional concerts and recitals), with the Schwanenritterkapelle (Chapel of the Swan Knight), a Romanesque crypt and the burial vault of the Margraves (25 sarcophagi).
Margravial Museum
The Markgrafenmuseum in Ansbach's Old Town has material on the history of the town and a Kaspar Hauser Collection.
Address: Kaspar-Hauser-Platz 1, D-91522 Ansbach, Germany
St John's Church
In Martin-Luther-Platz in Ansbach is the Late Gothic Johanniskirche (Protestant).
Baroque Synagogue
The Baroque Synagogue once served Ansbach's large Jewish community.
Surroundings
Wolfsrams-Eschenbach
Wolframs-Eschenbach, 20km/12.5mi southeast of Ansbach, is still surrounded by its old walls and moat. This was the home town of the medieval poet Wolfram von Eschenbach (c.1170-c.1220), author of "Parsifal". There is a monument to him in the Markt.Also in the Markt are the old half-timbered Town Hall (Rathaus), the former House of the Teutonic Order and the Liebfrauenmünster (Minster of Our Lady).
Popular Pages