Piazza Matteotti
Related Attractions
Santi Ambrogio e Andrea
A short distance southwest of the Piazza De Ferrari is Piazza Matteotti, in which stands the fine Jesuit church of Santi Ambrogio e Andrea (1588-1637) which contains pictures by Rubens and Reni.
Doges Palace
On the north side of the square is the former Doge's Palace (Palacio Ducale), a group of buildings dating from the 13th century. It has been converted into an exhibition and function center and opened in 1992. The frescoes by Carlone and Tiepolo have been restored.
San Matteo
Via Tommaso Reggio (left of the palace) and the Salita all'Arcivescovado lead to the little Gothic church of San Matteo (1278), with many relics of the noble Doria family (on the facade inscriptions in their honor, in the crypt the tomb of Andrea Doria). To the left of the church is a beautiful early Gothic cloister (1308-10).
Palaces
In the square in front of the church of San Matteo are several palaces of the Doria family, some of them faced with black and yellow marble; and in the narrow surrounding streets, once the most aristocratic part of the town, are numerous other noble mansions.
Cathedral of San Lorenzo
From Piazza Matteotti the busy Via San Lorenzo runs northwest to the harbor. Immediately on the right is the Cathedral of San Lorenzo, originally a Romanesque pillared basilica (1100-1160), remodeled in Gothic style in 1307-12 and crowned with a Renaissance dome by Galeazzo Alessi in 1557. It contains fine pictures and sculpture. In the north aisle is the large Cappella San Giovanni Battista (1450-65), the earliest example of Renaissance architecture in Genoa. Under the cathedral lies the Treasury.
Santa Maria di Castello
Between the 12th and 16th centuries a complex of churches and convents was built on Castello Hill in Genoa. The center is the Romanesque church of Santa Maria (12th century), with a Roman frieze in the main doorway. From the sacristy a three-storey cloister is open to the public; note the Loggia dell'Annunziazone on the first floor, with the fresco "The Annunciation of Our Lady", and the ceiling paintings. There is a museum of religious art.
San Agostino
The church of San Agostino in Genoa was badly damaged in the Second World War and rebuilt. To the right of the church are two cloisters with the Museo di Scultura e Architettura di S Agostino (Genoese sculpture from the Middle Ages to the 18th century).
Museo Chiossone
From the Opera-House the busy Via Roma, in which are various entrances to the Galleria Mazzini, a shopping arcade, runs east to the Piazza Corvetto. From here the Via XXV Aprile runs north to the Piazza Fontane Marose. On higher ground to the northwest of this square is the Villetta di Negro park (view), with the Museo Edoardo Chissone which contains a collection of Oriental art (third century B.C. to 19th century).
Piazza Matteotti Pictures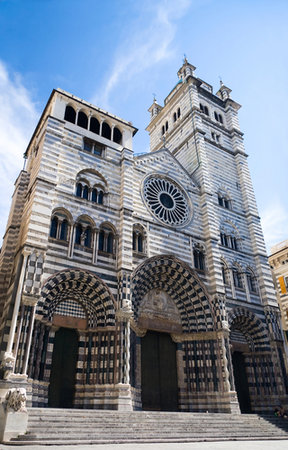 Map of Genoa Attractions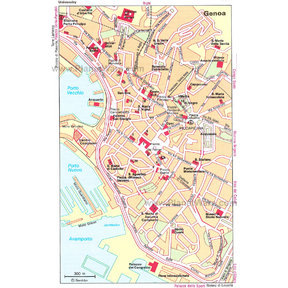 Genoa Map
More Genoa Attractions
Popular Destinations Nearby