Fréjus Cathedral
The cathedral in Fréjus, built in the 11th and 12th centuries, is almost completely surrounded by other buildings; only the doorway leading into the narthex (lobby) is visible from the outside. Above rises the tower with its spire, rectangular in the lower part but octanonal above.The narthex of the cathedral is entered through the south doorway with its impressive Renaissance doors (1530), which, however, are usually protected by wooden shutters and are shown only on guided tours. Some of the carvings are ornamental, others represent scenes from the lives of the Virgin Mary, St Peter and St Paul; in the borders can be seen symbols of the Saracen wars.In the two-aisled cathedral can be seen, left of the entrance, two marble tombs (17th century), a wooden Crucifix (16th century) and a beautiful 16-part altar-piece (15th century) by Jacques Durandi (died about 1470; school of Nice); in the chapel to the left of the High Altar are two other bishops' tombs (14th and 15th centuries).
Opening hours:
Apr 1 to Sep 30:
9am-7pm
Oct 1 to Mar 30:
9:30am-12pm, 2pm-5:30pm
Guides:
Guided tour available as optional extra.
Frejus Cathedral Highlights
Baptistery
To the left of the narthex in Fréjus Cathedral is the Baptistery, a pre-Romanesque octagonal building of the fourth or fifth century. The arcades are borne on eight pillars; six of these came from older buildings (three pairs of differing marble). In the center stands the font. There were originally two doors to the chapel; the person to be baptized came in through the lower door and left by the higher one.
Cathedral Cloister
Steps from the narthex give access to the two-storyed cloister of Fréjus cathedral. It is composed of delicate pillars and in the coffered ceiling can be seen a cycle of scenes from the Apocalypse, dating from the 14th and 15th century, not all of which have been preserved. In the middle of the cloister is a well, 16m/53ft deep.
Musee Archeologique
Within the Fréjus Cathedral, on the north side of the cloister is a double staircase, the steps of which were once used as seats for the nearby Roman amphitheater. The upper story of the cloister was originally also enclosed on all four sides, but a great deal was destroyed in the French Revolution, so that only one side of the gallery now remains. In the adjoining room can be found the Musée Archéologique with a Roman mosaic floor and other finds of the Greek and Roman eras.
Map of Frejus Attractions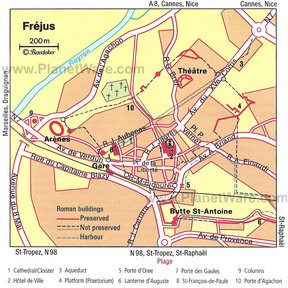 Frejus Map
Popular Destinations Nearby