Museum District, Frankfurt
Museumsufer
Along the Schaumainkai in Frankfurt's district of Sachsenhausen, on the left bank of the Main, there has developed in recent years an extraordinary concentration of museums, some of them of international standing.
Transit:
Bus: 46 (Stadel or Eiserner Steg).
Related Attractions
Städel Institute
In the center of the Museumsufer in Frankfurt is the Städel Art Institute, with the Municipal Gallery, an excellent collection of painting from the 14th C. to the present day (Rembrandt, Cranach, Dürer, Goya; Italian, Dutch and Flemish masters).
Museum of Applied Art
The Frankfurt Museum of Applied Art, housed in the neo-classical Villa Metzler and a new building opened in 1985, has some 30,000 items of European and Asian applied art - furniture, tapestries, glass, ceramics, books and manuscripts.
Museum of Ethnography
The Museum of Ethnography in Frankfurt is one of the finest museums in Germany. The museum was founed in 1904 by Dr. Bernhard Hagen.
German Postal Museum
The German Postal Museum, the predecessor of which was opened in Berlin in 1878, has been housed in Frankfurt since 1958. The exhibits illustrate the history of the postal service and telecommunications.
Liebieghaus
In the Liebieghaus in Frankfurt is the Museum of Ancient Sculpture (Asian and Egyptian, Greek and Roman, medieval, Renaissance and Baroque).
German Architectural Museum
The German Architectural Museum in Frankfurt illustrates the interaction between social and ecological objectives, the technical capacity available and ideas of architectural design.The museum is home to 200.000 architectural plans, drawings and sketches, 1240 models, pictures and furniture.
German Film Museum
The Film Museum in Frankfurt has five sections: from the camera obscura to the Lumière brothers; the work of the Lumière brothers; history of the cinema; the language of film; and sound in film.
Map of Frankfurt Attractions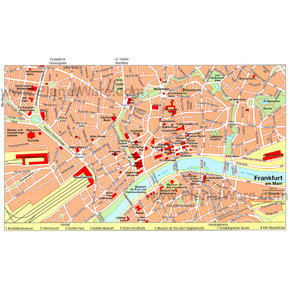 Frankfurt Map
More Frankfurt Attractions
Popular Destinations Nearby