Surroundings, Nice
There are several villages, a park and an observatory outside of Nice worth visiting.
Related Attractions
Observatory
In the northeast of Nice, on the edge of Mont Gros (375m/1,230ft) and accessible by the Grande Corniche D2564, stand the white buildings, visible from a long distance, of the Observatory built by Charles Garnier. The dome, which at 24m/79ft in diameter is the largest in Europe, was constructed by Gustave Eiffel in 1885.
Villefranche-sur-Mer, France
On the far side of Mont Boron lies Villefranche, a beautiful natural harbor developed in the early 14th C. by Charles II of Anjou. The town is surrounded by olive-clad hills and has such a mild climate that even bananas ripen here. In the south of the picturesque Old Town stands the Citadel (1580; fortifications on the seashore). In the Church of St-Michel, built in the Italian Baroque style, is a figure of Christ carved in elm and another of St-Rochus (16th C.)The remarkable Rue Obscure runs beneath huge shaded arches. By the harbor stands the fishermen's Chapel of St-Pierre (often closed) - the interior of which was decorated by Jean Cocteau - and the Palais de la Marine. Cocteau often stayed at both Villefranche and St Jean Cap Ferrat and a scene from his film "Le Testament d'Orphée" is set in the Rue Obscure.
Phénix
In the southwest of Nice, opposite the airport, is the newly built Arénas shopping center. Between it and the Promenade des Anglais there is a large park with various attractions, an artificial lake and aviaries. Of particular interest is a glass greenhouse (110m/361ft long, 25m/82ft high) with tropical plants divided into seven climatic zones.
Parc des Miniatures
Halfway between the center of Nice and the airport, on the boulevard Impératrice Eugénie, lies the Parc des Miniatures. In a parkland setting it displays - on a scale 1:25 - episodes and monuments from the history of Nice from prehistoric times to the present day.
Mougins - Musée de l'Automobil les Hautes Breguières
The Musée de l'Automobil les Hautes Breguières is an ultra modern museum with an interesting array of mostly French vehicles. Located near Nice, this is a worthy stop if you're in the vicinity.
Scenic Rail Trip
There is a beautiful view of the Var Valley on this scenic rail trip.
On the road between Nice and Antibes is the village of Vence, known for its artistic community.
Map of Nice Attractions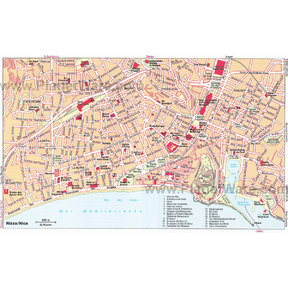 Nice Map
More Nice Attractions
Popular Destinations Nearby