Annecy Tourist Attractions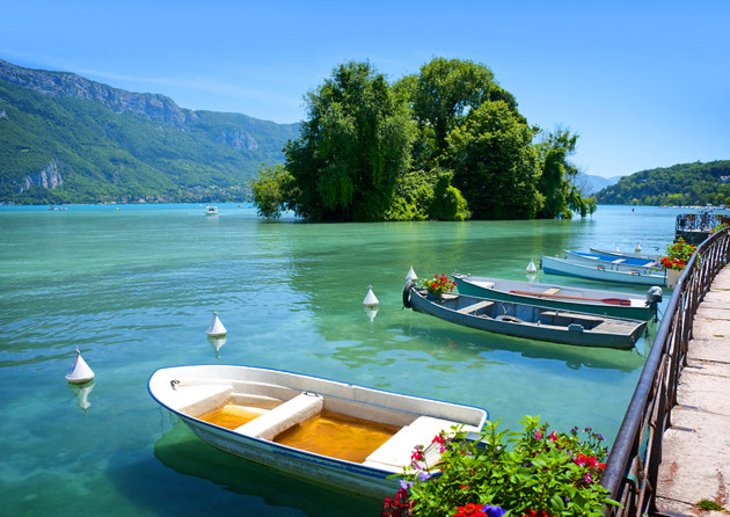 Annecy
The attractive little town of Annecy (alt. 448m/1470ft; pop. 52,100), beautifully situated on its lake, has a considerable amount of industry, including the bell-foundry which made the famous "Savoyarde" bell for the Sacré-Coeur in Paris.
Churches
The old town, traversed by innumerable little water channels, lies round the river Thiou (here canalized), which flows out of the lake. It has a number of churches, including the 15th C. church of St-Maurice and the Cathedral of St- Pierre (16th C.), to the west of which is the Bishop's Palace (1784).
Other Buildings
Other fine buildings are the modern Palais de Justice (Law Courts, 1978) and the Conservatoire d'Art et d'Histoire, with the Payot collection. Rue Ste-Claire is an attractive arcaded street with houses of the 16th-18th centuries.
Avenue d'Albigny
Along the beautiful shores of the lake runs the Avenue d'Albigny, shaded by plane-trees, which offers fine views over the lake.
Palais de l'Isle
On an island in the Thiou is the 15th C Palais de l'Isle, which contains a small museum (stones with inscriptions).
Château d'Annecy
The Château, once the residence of the Counts of Geneva, was given its present form in the 15th and 16th centuries; it too contains a museum.
Drive Around the Lake
A drive round the lake is one of the great attractions of Annecy. From Mont Veyrier (1,691m/5,548ft) there are magnificent views. The Château de Menthon, picturesquely situated on the east side of the lake, dates from the 13th-15th centuries.
Popular Pages