Surroundings
There are numerous places to visit all around St Petersburg including the beaches and Fort De Soto park to the south and Clearwater to the north.
Related Attractions
Pinellas Suncoast
Pinellas Suncoast is the name given to a 28 mi long stretch of coast on the Gulf of Mexico. Mile-long beaches of almost snow-white sand and the warm, crystal-clear waters of the Gulf of Mexico with its gentle surf, combined with excellent tourist facilities, create ideal conditions for all kinds of water sports. The season here lasts all year round. A great variety of water sports can be practised here: sailing, windsurfing, deep-sea angling, diving, water-skiing The gently sloping beaches are ideal for families. Among favourite bathing resorts and port towns on the coast are Tarpon Springs, originally founded by Greek fishermen; Indian Rocks Beach; the Victorian-style Hamlin's Landing, with wooden quays and pleasant fish restaurants; Madeira Beach; John's Pass Village, a fishing and boating port in turn of the 19th c. style; and Treasure Island with its broad sandy beach, once a favourite pirate anchorage.
St Petersburg Beach
Located 10 miles west of St Petersburg, this resort town of 9,200 people offers a wide beach of white sand extending along the Gulf Coast. Its most notable landmark is the luxury Don Cesar Hotel, built in 1928, which combines Moorish and Mediterranean features in its architecture.

Don CeSar Beach Resort and Spa
A landmark in Saint Pete Beach, the Don CeSar Beach Resort and Spa is a large pink concrete hotel characterized by a mixture of Moorish and Mediterranean Revival features. It was built in 1928 for Irish immigrant and developer Thomas Rowe. The hotel has hosted such luminaries as F Scott Fitzgerald and Al Capone. It fell into disrepair after the army bought it to use as a hospital and veteran affairs office; finally abandoning it 1967. During the mid-1980's the hotel underwent a massive restoration to arrive at its present state.
Gulf Beaches Historical Museum
Housed in a former church built in 1917, the first built on a west coast barrier island, the Gulf Beaches Historical Museum displays historical artifacts from the region dating back to the 1500s. There are photographs and various church memorabilia among the items in the collection.
Dolphin Landings Charter Boat Center
Dolphin Landings offers cruises on 37-46 ft sailboats to allow for the opportunity to get a good look at the dolphins. Other excursions include sunset, snorkeling and shelling excursions.
Suncoast Seabird Sanctuary, Indian Shores, Florida
Zoologist Ralph Heath Jr founded Suncoast Seabird Sanctuary in 1971. On average, 23-30 wild birds are admitted every day and over 80% of the birds that survive during the first 24 hours are rehabilitated and released back into the wild.
Map of St Petersburg Attractions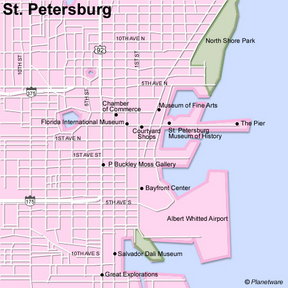 St Petersburg Map
More St Petersburg Attractions
Popular Destinations Nearby