Surroundings
Areas close to Fort Lauderdale worth a visit for their unique attractions include Deerfield Beach, Coconut Creek and Pompano Beach in the north and Davie, Dania, Hollywood and Hallandale in the south.
Related Attractions
Butterfly World, Coconut Creek, Florida
Butterfly World has over 2000 butterflies flying around tropical flowers and plants in this screened-in aviary located in the Tradewinds recreational park. The aviary also includes waterfalls, birds and fish.There is a breeding lab, a butterfly and insect museum, rose garden and vine covered walking path.
Dania - John U. Lloyd State Park
The John U. Lloyd State Park has 251 acres that is filled with sea life and a manmade wetland. Fishing, canoeing, swimming, nature study, boating, and picnicking opportunities make for an ideal family destination!
Hollywood, Florida
Hollywood is a popular destination for history museums and wooden roller coasters to professional Jai-alai. Hollywood, also known as the "Diamond of the Gold Coast," has beautiful beaches and abundant water activities available.
Ann Kolb Nature Center
The Ann Kolb Nature Center features a 65-foot observation tower, a lagoon and trails for canoes, kayaks, rowboats and bicycles. Within the nature center, is a 4,000 gallon aquarium.This is a beautiful green space in the middle of an urban area where you can simply go for a walk or rent a kayak; spend an hour or a day.
Seminole Paradise
Seminole Paradise features a 4-acre tropical pool area with a theme-park-style water slide, poolside cabanas. In addition, the legendary Hard Rock Cafe is on site, as well as a European-style spa and fitness center.
Art and Culture Center of Hollywood
The Art & Culture Center of Hollywood exhibits sculpture, photography, jewelry and antiques as well as offering cultural and educational programs.
Sunrise - Sawgrass Mills Factory Outlet Mall
Located nine miles west of Fort Lauderdale, Sawgrass Mills Factory Outlet Mall is a massive factory outlet mall featuring an 18 screen movie theatre, daily entertainment and more than 275 stores offering deals of up to 80% off the retail price.
Museum of Art, Coral Springs, Florida
Coral Springs Museum of Art displays paintings, sculptures and mixed-media work by various artists.
Dania, Florida
The town of Dania is a winter beach resort featuring Jai Alai all year-round. The antique district and Graves Museum are a few of the other highlights.

Graves Museum of Archaeology and Natural History (closed)
ATTRACTION HAS CLOSED - SOME EXHIBITS MOVED TO Museum of Discovery and Science.The diverse collection of artifacts and exhibits at this museum showcases the natural history and geology of Southern Florida and includes a wide range of specimens and objects from different cultures around the globe. The two-story building contains several galleries including those dedicated to Central and Meso-America, paleontology and ancient Egypt. One of the museum highlights is a 3.5-ton quartz crystal.
Dania Beach - IGFA Fishing Hall of Fame & Museum
IGFA Fishing Hall of Fame & Museum has interactive fishing simulators that demonstrate the effect to reel in various species. The tackle gallery and Children's Discovery Room are highlights.
Davie, Florida
Davie has a rodeo arena that hosts national shows and is home to the Buehler Planetarium. There are numerous parks available for abundant recreational activities.
Flamingo Gardens
Flamingo Gardens is a 60 acre botanical garden and wildlife sanctuary situated on land formerly run by Floyd and Jane Wray as a citrus grove. Today the area is home to alligators, Florida panthers, Caribbean Flamingos, a free-flight aviary and tropical planthouse. The arboretum features 15 champion trees and native and exotic plants. The narrated tram tour takes the visitor through the wetlands, rainforest and citrus groves. The historic Wray home is open to visitors daily.
Buehler Planetarium
Located on the central campus of the Broward Community College in Davie, southwest of Fort Lauderdale, the Buehler Planetarium offers star and laser shows, night-sky watches and other special programs. The planetarium was built in 1965 and completely renovated in 1988 to include a Zeiss M1015 star projector and a sophisticated computerized automation system.
Young At Art Children's Museum
This Young At Art Children's Museum is dedicated to promoting the arts to children and young people. Visitors can make music, paint, sculpt or craft unique creations then take them home. The exhibits at Young at Art include an African Village, an Archeological Dig in Israel, a Japanese house, a Mayan Pyramid and a Latin American marketplace.
Map of Fort Lauderdale Attractions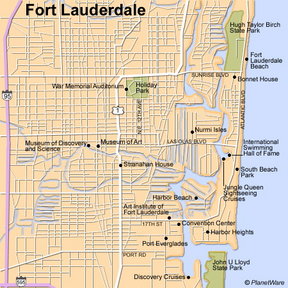 Fort Lauderdale Map
More Fort Lauderdale Attractions
Popular Destinations Nearby