Ponte Vecchio, Florence
It is possible that the Ponte Vecchio in Florence, at the narrowest point on the Arno River, dates back to Etruscan times. It is known for certain this is where there was a wooden bridge for the Roman consular road, the Via Cassia, to cross the river. On account of its age the Ponte Vecchio has undergone more repair following collapse or flooding than any other bridge in the city.
Important Information:
Transit:
Bus: 3, 13, 15, 18, 19, 23, 31, 32.
Shops and dwellings have been built on it since the 13th century. It was convenient for the butchers who could throw their waste straight into the river, to the delight of the fish and those Florentines who had to keep the city clean. The number of shops increased to such an extent, however, that Grand Duke Ferdinando I decreed "for the benefit of strangers" that only goldsmiths might have shops on the bridge, a ruling that has been observed right up to the present day.In the middle of the bridge is a bust of Florence's most famous goldsmith, Benvenuto Cellini (1900).The Corridoio Vasariano, constructed in the 16th century to link the Palazzo Vecchio and the Palazzo Pitti, leads through the first story of houses on the bridge.The shops on the bridge are renowned for their gold and jewelry.
More Ponte Vecchio Pictures
Map of Florence Attractions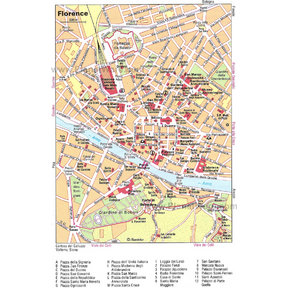 Florence Map
More Florence Attractions