Piazza Pitti, Florence
The Piazza Pitti in Florence is the location of the imposing Palazzo Pitti.
Related Attractions
The large Palazzo Pitti is one of Florence's finest open areas. A large space, wtih over 32,000 square meters, it is a popular place for people to congregate, and enjoy the surrounding architecture and nearby museums.
Santa Felicità
The church of Santa Felicità was built over an early Christian graveyard, rebuilt in the 11th and 14th centuries and completely remodeled in the 18th century. However, the porch and Vasari's "corridor", connecting the Palazzo degli Uffizi and the Palazzo Pitti, were retained.Inside the church, above the entrance, is the gallery for the Grand Dukes who attended services here. To the right of the entrance in the Cappella Capponi can be found the church's most important works of art, two masterpieces by Pontormo (1526-1528), "Entombment of Christ" and "Annunciation". The chapel was built by Brunelleschi for the Barbadori family.The chapterhouse in the church cloister is also a fine work of architecture.
Forte (Fortezza) di Belvedere (or Forte di San Giorgio)
The best way to get to the Forte di Belvedere, above Florence on the left bank of the Arno, is on foot through the Giardino di Boboli.The massive fortress was the work of the architect Buontalenti (1590-1595), probably based on plans drawn up by Giovanni de'Medici. It was commissioned by Grand Duke Ferdinando I who intended it to serve as a stronghold where he could safeguard his family and all their riches. Inside is a small palace, also designed by Buontalenti, which today is used for temporary exhibitions. The ramparts of the star-shaped bastion near St George's Gate, the Porta San Giorgio, afford a splendid view of the city.
House of Bianca Cappello (formerly the house of the Corbinelli)
Bianca Cappello was the daughter of a noble Venetian family and the sweetheart and later wife of Grand Duke Francesco I. Her house, which was completely rebuilt by Bernardo Buontalenti in 1567, is a fine example of the mansions lived in by the nobility of that time. It has an unusual feature in the grotesque representations of bats below the windows.
Zoological Museum
The Zoological Museum is in the Palazzo Torrigiani, also known as "La Specola", the observatory, because Grand Duke Pietro Leopoldo built an astronomical and meteorological observatory here in 1775. The museum's collection of anatomical specimens in wax is particularly interesting. Many of them were molded, in an improbably true-to-life fashion, in the studio of Clemente Susini (1754-1814).
Piazza Pitti Pictures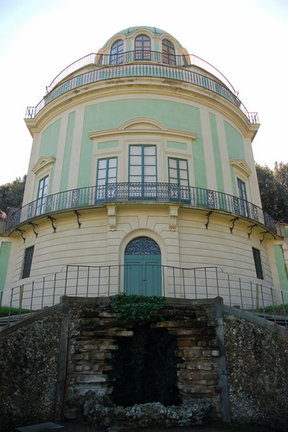 Map of Florence Attractions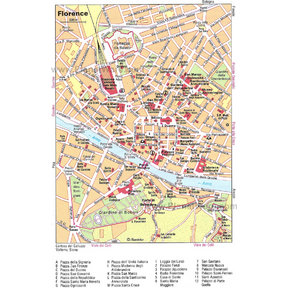 Florence Map
More Florence Attractions