Events, Florence
Florence is a cultural center of Italy and is host to a variety of events throughout the year. At any given time you will find special exhibits at art galleries, music concerts to attend and traditional celebrations and activities to participate in. Among the most popular events for the Florentine's is the Saint John's Firework display, held on June 24 in celebration of the city's patron saint.
Related Attractions
Maggio Musicale Fiorentino
Since its origins in 1938, the Maggio Musicale Fiorentino has grown in length to a two-month long music festival of major proportions.Ranging from opera to ballet, the festival offers a wide spectrum of performances to visit.Some of the popular sites for the various performances include the Teatro Communale for operas and the Boboli Gardens for outdoor events.
Cultural Asset Week
The festival takes place during April. It offers free admission and guided tours of all the national museums.
Explosion of the Cart
Explosion of the Cart is held on Easter Sunday at the Cathedral Square from the Altar during High Mass.
Map of Florence Attractions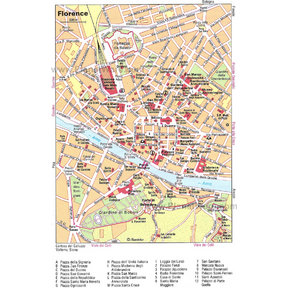 Florence Map
More Florence Attractions