Surroundings, Oulu
Related Attractions
Haukipudas, Finland
20km/12.5mi north of Oulu is Haukipudas, with a wooden church of 1762 containing wall paintings by the well-known Finnish church painter Mikael Toppelius, and a belfry added in 1751. 17km/10.5mi beyond this is the fishing village of Ii, with old wooden houses in the harbor quarter (Iin Hamina).
Turkansaari Open-air Museum
13km/8mi southeast of Oulu, on the left bank of the Oulujoki, can be found the Turkansaari open-air museum (which can also be reached from Oulu by boat), with more than 20 old buildings, including a church of 1694. The road continues to Muhos, with the oldest wooden church in Finland (1634). 6km/4mi upstream is the Pyhäkoski hydro-electric power station.
Hailuoto, Finland
Off the coast, in the Gulf of Bothnia, is the island of Hailuoto (ferry in summer from Oulunsalo, 27km/17mi southwest of Oulu). This is a flat and very young island which came into being in the medieval period as a result of a rise in the level of the land. Thanks to its beautiful sandy beaches, particularly on the west coast, it is now a very popular holiday area. The chief place on the island, Hailuoto, is a little town in traditional style, with picturesque fishermen's huts along the shore. At Marjaniemi, at the end of the island, is a camping site with holiday cabins.There is also a noted bird refuge that attracts many rare species.
Sand Castle Building Championships
Hailuoto Sand Castle Building Championships are in July.
Liminka, Finland
25km/15mi south of Oulu on Road 4 is Liminka, which has a Historical Museum, housed in an old granary, illustrating the traditional activities of the area (dairy farming, fishing, hunting). There is also a Museum of Art in an old school (1868).A well-known bird paradise is located on the Bay of Liminka.
Raahe, Finland
52km/32mi south of Liminka on Road 8 is Raahe (Swedish Brahestad; pop. 14,000), founded by Per Brahe in 1649. In the Pekkatori, a square surrounded by burghers' houses, can be seen a statue of Per Brahe (a copy of the original, which is in Turku).The town was rebuilt in 1810 after a fire, and it preserves some houses of that period. It is attractively laid out around the squares in the center of the town. The Museum (opened in 1862) has a collection of material on ships and seafaring, as well as objects brought back by seamen from their voyages. The church (by J. Stenbäck, 1912) has an altarpiece by the painter E. Järnefelt (1863-1937).
Map of Oulu Attractions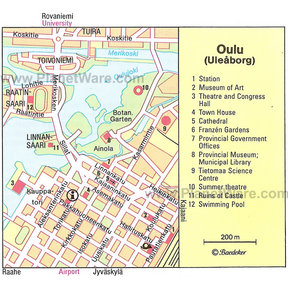 Oulu Map
Popular Destinations Nearby