Surroundings, Helsinki
The surroundings of Helsinki include the island of Korkeasaari and the garden city of Tapiola.
Related Attractions
Suomenlinna
The fortified islands of Suomenlinna (Swedish Sveaborg) are a part of Helsinki which seems remote but is in fact easy to reach by ferry (same ticket as for buses and trams) which takes only 20 minutes.
Sveaborg Castle
The fortress of Sveaborg (Swedish Castle) near Helsinki was built in the mid 18th century to bar Russian access to the Baltic. During the Swedish-Russian war of 1808-09 it fell to the Russians, who thereafter enlarged and strengthened it. In 1918 it passed into Finnish hands and was given the Finnish name of Suomenlinna (Finnish Castle). During the 1950s and 1960s it was handed over by the military to the civilian authorities, and since then has been restored and converted to cultural and recreational uses. It is now included in UNESCO's list of world heritage monuments.
Nordic Art Center (closed)
In Suomenlinna near Helsinki, the five members of the Nordic Council (Denmark, Finland, Iceland, Norway and Sweden) have established an Art Center at which artists are given the opportunity, with the help of an allowance, to pursue their work in peace.The fortifications themselves are still impressive (Royal Gate, casemates). There are also some buildings designed by C. L. Engel. In the old naval dockyard are numbers of wooden ships awaiting restoration. All over the area visitors will find interesting nooks and corners, as well as museums of both traditional and modern art.
Vantaa
Within the territory of Vantaa, where Helsinki was originally founded in 1550, are Helsinki's international airport and the Heureka Science Center (opened in 1989).
Finnish Science Center
Heureka, the Finnish Science Center, includes a series of exhibits that focus on life, society and the universe. Highly interactive displays keep the visitor learning in a fun and informative way.A planetarium theater is an additional highlight for visitors.
Finnish Aviation Museum
The Finnish Aviation Museum displays over 60 civilian and military aircraft. There are numerous aviation-related exhibits such as engines, instruments, propellers, scale models and radio equipment.
Flamingo Entertainment Centre
Flamingo Entertainment Centre is a leisure destination that features a waterpark, fitness club, bowling, mini-golf, shopping, and several restaurants. There are also movies and an adventure park for children.
December International Fur Auction
Vantaa December International Fur Auction is in December.
International Fur Auction
Vantaa International Fur Auction is held in March.
Herttoniemi
8km/5miles east of Helsinki (leaving by way of Itäväylä, the Porvoo road) is the suburb of Herttoniemi, with the Topelius Museum, commemorating the poet Zachris Topelius (1818-98).
Korkeasaari
To the east of Helsinki lies the island of Korkeasaari (Swedish Högholmen), with a zoo and a restaurant. It can be reached either by motorboat from the North Harbor or on a footbridge from Mustikkamaa recreation area.
Seurasaari - Open-Air Folk Museum
To the west of Helsinki is the island of Seurasaari (Swedish Fölisö), which is linked with the mainland by a footbridge. It has an interesting open-air museum, with old peasant houses, a church from Kiruna (1686) and other timber buildings. The island is reached by way of Mannerheimintie, then Linnankoskankatu, right into Paciuksenkatu and left into Seurasaarentie, which leads to the bridge. Nearby, at Meilahti 7, is an old timber house now occupied by the Friends of Finnish Handicrafts, with an exhibition of Rya carpets and other textiles at which visitors can watch the weavers at work.
Lohja, Finland
A side trip can be made from Fiskari to Lohja (19km/12mi on Road 51), with the headquarters of one of the largest Finnish companies. St Lawrence's Church (15th century) is built of undressed stone; the interior is almost completely covered with excellently preserved 16th century wall paintings.The landscape of Lohja has many manors and gardens as well as Lake Lohja.
Salo, Finland
22km/14mi from Ekenäs is Salo, on Road 1 (Turku-Helsinki). In the southern district of Uskela is a stone church (1813) by C. L. Engel; from the hill on which the church stands there is a fine view of the town.
Järvenpää - Lakeside Blues Festival
The Lakeside Blues Festival has been held in late June and early July since 1977.The week-long festival includes street shows, free concerts, events for children, and even restaurant performances.The center of the festival, however, is the park on the shores of Lake Tuusulanjärvi, where extensive events are held to entertain the whole family.The festival grows each year in size and in importance.
Luoma - Hvittrask
Hvitträsk, built between 1901 and 1903 of logs and natural stone, was a home and studio for the architectural team of Eliel Saarinen and Armas Lindgren. It also served as the boyhood home of world famous architect Eero Saarinen, who became well-known in the United States. Hvitträsk is surrounded by a beautiful English-style garden on the shore of Lake Vitträsk.
Järvenpää - Ainola
This is the home of the composer Jean Sibelius and his wife Aino. It was preserved as it was during their lifetime.
Map of Helsinki Attractions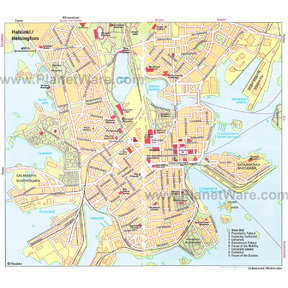 Helsinki Map
More Helsinki Attractions
Popular Destinations Nearby