Cathedral Hill, Erfurt
Domberg
In spite of some bomb damage during the Second World War, Erfurt's charming old town center has largely been preserved intact. Since the war, much restoration of old buildings has been done. The dominant features of the town are its two medieval churches, the Cathedral and St Severus, on the Domberg in the heart of the city.
Related Attractions
Erfurt Cathedral
The Cathedral on Erfurt's Domberg was founded in 742. In 1154 the original church was replaced by a Romanesque basilica, to which the High Gothic choir was added in 1349-70. In 1455-65 it was rebuilt as a hall-church, with a huge hipped roof spanning the nave and aisles.The Cathedral has three towers, which in medieval times had tall steeples like those of St Severus (the present spires are 19th century). In the central tower is one of the largest bells in the world, the "Maria Gloriosa", which is famed for the beauty of its tone.The fifteen tall windows in the choir are masterpieces of medieval stained glass, unique in Germany in their size and unity of theme. Among the Cathedral's other treasures are the sumptuous Baroque high altar, the finely carved 14th century choir-stalls, the stucco figure of the Virgin and a figure of Wolfram (both c. 1160), and the tomb of Count von Gleichen and his two wives (mid 13th C.).
St Severus Church
The Severikirche (first recorded in 1121) on Erfurt's Domberg is an Early Gothic hall-church with double lateral aisles and a richly furnished interior (sarcophagus of St Severus and 15 m/49ft high font, two masterpieces by local sculptors).
Domplatz
In the Domplatz are two handsome old houses which survived the bombardment of Erfurt by the French in 1813 - the 18th C Grüne Apotheke (Green Pharmacy) and the house "Zur Hohen Lilie", one of the finest Renaissance buildings in Erfurt (restored 1964-69).
St Peter's Church
Opposite the Domberg in Erfurt rises the Petersberg (St Peter's Hill), once crowned by St Peter's Monastery (founded 1060; rebuilt 1103-47; burned down during the French bombardment of the citadel in 1813). The Peterskirche (St Peter's Church), a Romanesque aisled basilica, is one of the earliest buildings of the Hirsau school in Thuringia. There are also extensive remains of the old citadel on the Petersberg (1664-1707). From the top of the hill there is a fine view of Erfurt.
Cathedral Hill Pictures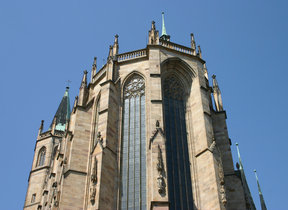 Map of Erfurt Attractions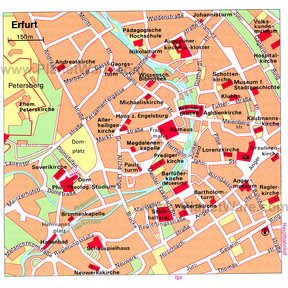 Erfurt Map
More on PlanetWare