Surroundings, Stratford-upon-Avon
Related Attractions
Stratford - Anne Hathaway's Cottage
Anne Hathaway's Cottage is situated in Shottery, 1mi/1.6km west of Stratford town center. This country house, a brick building with half-timbering, a thatched roof and a delightful garden, remains in almost the exact state as it was when Shakespeare won the hand of his wife, Anne, here. Until 1899 it was inhabited by descendants of the Hathaway family. Since then it has been furnished again in the style of the 16th/17th centuries. A small park has been laid out behind the fruit garden. It has been planted with all the trees mentioned in Shakespeare's works.
Wilmcote - Mary Arden's House
Shakespeare's mother is said to have been born and lived in Mary Arden's House in Wilmcote (4mi/6.4km northwest of Stratford). This magnificent Tudor-style farmhouse now houses a museum devoted to the country customs of the county of Warwickshire.
Stratford - Charlecote Park
Shakespeare is supposed to have hunted in Charlecote Park (4mi/6.4km east of Stratford), was apparently caught, and lashed as a punishment by Sir Thomas Lucy, whereupon Shakespeare turned him into the somewhat laughable justice of the peace Shallow in "Henry IV". The Lucy family owned the estate after 1247. In 1558 Sir Thomas rebuilt the country seat and received there, among others, Elizabeth I.
Alcester, England
A popular outing from Stratford is to Alcester (8mi/13km west of Stratford; pop. 4,500). The town features many old half-timbered houses, including the Old Malt House (about 1500) and the picturesque Town Hall.There are a number of well-preserved Tudor style houses and the Old Rectory is a good example of Georgian architecture. Ragley Hall in Alcester is the home of the Jerwood Sculpture Park, a collection of 20th and 21st century sculpture.
Ragley Hall
Ragley Hall is the distinguished country seat of the Marquis of Hertford. Built in the Palladian style, it lies 1.5mi/2km southwest of Alcester. Built to the design of Robert Hooks between 1679 and 1693, James Gibbs (1682-1754) decorated the salon after 1750 with splendid stucco work. Chippendale furniture, paintings by Rubens and Reynolds, Meissen and Sèvres porcelain embellish the rooms. The 18th century country garden was created by "Capability" Brown.
Coughton Court
Coughton Court is a National Trust property near Alcester. This Tudor house has been home to the Throckmorton family since 1409. The house is associated with the Gunpwder Plot and is said to have seen a great deal of activity during the Civil War. Some impressive features in the house are the central gatehouse, collections of furniture, porcelaine and paintings.
Kinwarton Dovecote
Kinwarton Dovecote is a National Trust property located near Alcester. The 14th century circular dovecote with an ogee doorway still houses doves.
Map of Stratford-upon-Avon Attractions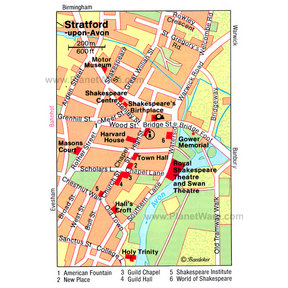 Stratford-upon-Avon Map
Popular Destinations Nearby