Surroundings, Norwich
The surrounding area of Norwich includes the Norfolk Broads, a fascinating nature reserve.
Related Attractions
Barnham Broom Golf & Leisure Cenre
Barnham Broom center is 10 miles west of Norwich. There are two 18-hole golf courses, squash and tennis courts, an indoor swimming pool, a snooker room, a fully-loaded spa, a gym, and a beauty salon
Thetford, England
Thetford (pop. 19,591) is a trade center located 27mi/43km southwest of Norwich. Thetford Forest is an ideal base for exploring, walking, and cycling. The highest Norman motte in England is located southeast of the centre of Thetford.
Church of the Holy Sepulchre
The only surviving remains of a church belonging to the Canons of the Holy Sepulchre.
Thetford Priory
The Priory of Our Lady of Thetford belonged to the Order of Cluny, and was founded in 1103 by Roger Bigod, an old soldier and friend of William the Conqueror.
Thetford Warren Lodge
Remains of a medieval house, probably the home of the gamekeeper for Thetford Priory.
Castle, Weeting, England
Weeting is on the B1106 northwest of Thetford. It has an interesting 13th century castle and St Mary's Church with a round tower, one of the 124 still in existence. Weeting has many thatched cottages from the 18th and 19th century.
Grime's Graves
Grime's Graves is an English Heritage property in Weeting. Visitors can descend 30 feet into excavated shafts of the Neolithic flint mines.
Diss, England
Diss (pop. 5,400) is a small town located 2.5 miles west of Scole. Diss has several historic buildings and a museum. There is the 14th century church, St. Mary The Virgin and the 16th century Dolphin House.
Bressingham Steam Museum and Gardens
At the Bressingham Steam Museum visitors can see Alan Bloom's collection of steam locomotives and traction engines and the world famous Dell Garden. the locomotives include the Royal Scot, which toured the USA and Canada, and Oliver Cromwell, the last British Rail steam locomotive in passenger use. there are extensive railways, with over 5 miles of track, and locomotives and trains in three different narrow gauges and in UK standard gauge.There is a museum of railway memorabilia, an extensive fire engine collection and, as a centre-piece to the whole site, a Victorian Steam carousel with steam driven organ.The Dell Garden is based on a five-acre site and pioneered the concept of 'island flowerbeds'. there are over 5000 different species of perennials and alpine plants.
Airstation Farm
Airstation Farm offers horse-drawn caravan and riding holidays in Norfolk. Visitors see the region by a carefully planned route with numerous stopping places. Instruction is also provided for those who require it.
Reedham - Berney Arms Windmill (closed)
Berney Arms Windmill is an English Heritage property located in Reedham. The marsh mill is one of the best and largest remaining in Norfolk.
Swaffham - Oxburgh Hall
Oxburgh Hall is a National Trust property located in Swaffham. The late 15th C moated house has an outstanding gatehouse tower.
Castle Acre Priory
Castle Acre Priory is an English Heritage property near Swaffham. It includes ruins of a Cluniac priory, with prior's lodgings and a walled herb garden.Nearby within oval earthworks is a Norman manor which became a castle. Also of note is a medieval gateway with two towers embedded with flint.
Map of Norwich Attractions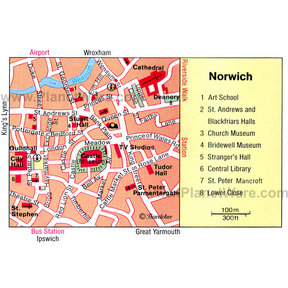 Norwich Map
More Norwich, England Attractions
Popular Destinations Nearby