Surroundings, Liverpool
Surrounding towns of Liverpool include Birkenhead, Ellesmere and Port Sunlight.
Related Attractions
Birkenhead, England
The residential and industrial town of Birkenhead (pop. 137,800) lies on the west side of the Mersey, linked to Liverpool by tunnels and ferry services. Many of the Birkenhead residents commute to Liverpool. Near the tunnel are the ruins of a Benedictine abbey (12th century) with the chapterhouse, crypt and refectory.Birkenhead Park, the first publicly funded park in Britain, opened in 1847. There are three entrances with Gothic, Italianate and Norman architecture. The park has two lakes and an ornate bridge.
Williamson Art Gallery
The Williamson Art Gallery in Birkenhead has an excellent collection of pictures and porcelain, together with much material on the history of the town.
Ellesmere Port - Boat Museum
The Boat Museum in Ellesmere Port (near Liverpool) recreates the heyday of the waterways when barges were an important form of goods transport.At the Ellesmere Port Boat Museum visitors can board many of the historic boats. There is also a working blacksmith along with several period cottages.
Port Sunlight Heritage Centre and Lady Lever Art Gallery
Port Sunlight is of interest for the part it played in the history of British industrial development. The Lever brothers had made a considerable fortune from soap and founded a model town for their workers on the estuary of the Mersey in 1888, similar to that of Cadbury near Birmingham. They built better schools and training centers. The Lady Lever Art Gallery has an excellent collection of Art Nouveau, 18th C furniture and Wedgewood porcelain, together with works by Turner and other English painters.
Hale - Speke Hall
One of the finest Tudor houses in England is Speke Hall (7mi/11km east of Liverpool in Hale). This half-timbered house on the north bank of the Mersey (1530-98) is notable for its great hall, its beautiful plasterwork and fine furniture.
Sudley Art Gallery
Associated with the Walker Gallery is the Sudley Art Gallery, in an early 19th C mansion on Mossley Hill (3mi/5km south). Mainly English 18th and 19th C artists such as Gainsborough and Turner are represented.
Widnes, England
Widnes (pop. 55,926) is on the River Mersey 10mi/16km east of Liverpool. With a number of noted landmarks such as Victoria Promenade and the Catalyst Science and Discovery Centre, Widnes has enough sites of interest for tourists to enjoy.
Catalyst
Visitors to Catalyst will discover the chemical industry in action. There are many hands-on, interactive exhibits, including a ride in a glass elevator to the observatory 100 ft above River Mersey.
Surroundings Pictures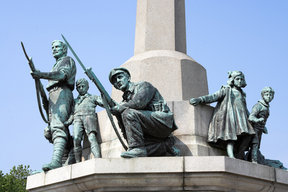 Map of Liverpool Attractions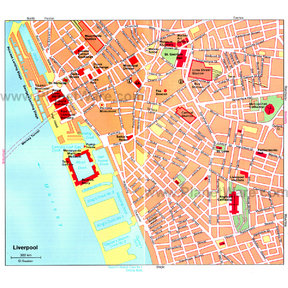 Liverpool Map
More Liverpool Attractions
Popular Destinations Nearby