Surroundings, Leeds
The towns and countryside surrounding Leeds offers opportunity to visit historical sites, attractions and recreational facilities.
Related Attractions
Kirkstall Abbey and Museum
Situated 3.5mi/6km west of Leeds, in the Aire valley, is Kirkstall Abbey, a Cistercian house founded in 1152. The picturesque remains include a roofless church with a narrow choir and a ruined Perpendicular tower, an almost completely preserved chapterhouse, the refectory, the kitchen and various other buildings. The gatehouse is now part of the Abbey House Museum, with reproduction of houses, shops and workshops illustrating Yorkshire life in earlier days. It belongs to Leeds City Corporation.
Temple Newsam
Temple Newsam House is a Tudor-Jacobean mansion set in a 900 acre park. It was the birth place of Lord Darnley, who was the husband of Mary Queen of Scots. It contains many recently restored Old Master paintings, and furniture by Thomas Chippendale as well as a collection of Leeds creamware and silver. The house stands in beautiful grounds with marvelous rose bushes and rhododendrons.
Harewood House and Bird Garden
Harewood House, residence of the Earl of Harewood, (8mi/13km north of Leeds) is a magnificent three-story mansion built in 1759-1771 based on plans by John Carr. The interior decoration is by Robert Adam, magnificent plaster work, fine wall and ceiling paintings by Angelika Kauffmann and furniture by Chippendale. As well as an outstanding collection of porcelain it has a large number of valuable pictures, including works by Reynolds, Gainsborough and El Greco. There is a beautiful park designed by Capability Brown, with a large lake, a bird garden and remains of a 12th C castle. The church contains a number of notable monuments.The garden also has a large variety of rhododendrons and herbaceous borders.
Ilkley, England
Ilkley (pop. 24,082) is a health resort located northwest of Leeds. The town has remains of a Roman wall; Manor House, one of the oldest buildings in Ilkley; and the surrounding countryside that attracts walkers and cyclists. Ilkley is home to a large literary festival that begins each year at the end of September and runs for two weeks.
Wakefield, England
The town of Wakefield contains an interesting museum of mining and an open-air sculpture gallery. It is the birthplace of the excellent English author George Gissing (1857-1903).The Wakefield Theatre hosts performing arts events and there is a city museum as well. Other notable sites include the ruins of Sand Castle, Wakefield Cathedral, and Nostell Priory.
Nostell Priory
Nostell Priory was built on the site of a medieval priory in the 18th C. This house contains a collection of Chippendale furniture, paintings and Chinese wallpapers. Outside you may enjoy lakeside walks or a stroll through the rose garden and there is an adventure playground for children.
Wakefield Art Gallery
The Wakefield Art Gallery obtains an important collection of the 20th century sculptures and paintings. It also has a special room for Barbara Hepworth and Henry Moore.
Keighley, England
Keighley (pop. 57,451) is located 17mi/27km northwest of Leeds. Some highlights in Keighley include Cliffe Castle, home to the Keighley Museum; East Riddlesden Hall, a 17thcentury British manor house; and the town library, which first opened in 1904 and was refurbished in 2007.

East Riddlesden Hall
East Riddlesden Hall is a National Trust property located in Keighley. The 17th C manor was a merchant's house, built at the time of the Civil War. It has a magnificent tithe barne and impressive gardens.
Cliffe Castle
Cliffe Castle is a Gothic castle in Keighley. It contains collections in natural and local history as well as decorative arts.
Otley, England
Otley (pop. 13,806) is a market town on the Wharfe northwest of Leeds. The annual Otley Folk Festival takes place in September and the noted Victorian Fayre is each year in December.
Wetherby, England
Wetherby is a small town on the River Wharfe featuring riverside walks and interesting shops.
Map of Leeds Attractions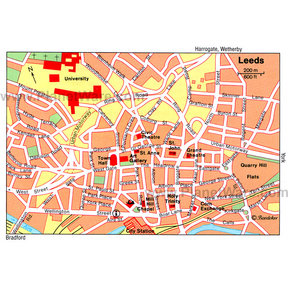 Leeds Map
Popular Destinations Nearby