Surroundings, Brighton
Related Attractions
Hove, England
Hove (pop. 82,500) is a suburb of Brighton. The Cricket Club in Hove is the site of county, national and international matches. There are a number of parks in Hove including St. Ann's Well Gardens, with many native and exotic trees.
British Engineerium (closed)
Closed until further notice.Hove is home to the British Engineerium (Museum of Steam and Mechanical Antiquities) which contains a restored Victorian pumping station. Collections include many model and full-size stationary engines, traction engines, fire engines and the original beam engine.
Newhaven, England
Newhaven, at the mouth of the River Ouse, has a large yacht harbor offering a cross-channel ferry service to Dieppe in France.Tide Mills in Newhaven was a large tide mill village with workers' cottages that ceased operation in 1900. The Sussex Archaeological Society is working on a project to outline timelines, photographs and videos of the area.
Paradise Family Leisure Park
Garden Paradise is England's leading gardening and horticultural center with over 10,000 plants, trees and shrubs. Other attractions include a natural history museum, dinosaur displays and a miniature railroad.
Heritage Museum (closed for renovation)
The museum illustrates the development of the community through reconstructed sets of objects and photographs.
Fort
Newhaven Fort is a 10-acre Victorian coastal fortress. Visitors can wander through underground tunnels and stand by the cannons which were used during the two World Wars. It also offers a military and wartime collection containing displays about the Dieppe Raid and the Normandy Landings.
Surroundings Pictures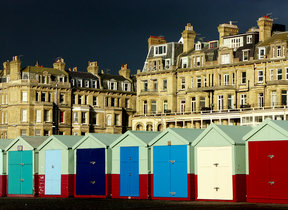 Map of Brighton Attractions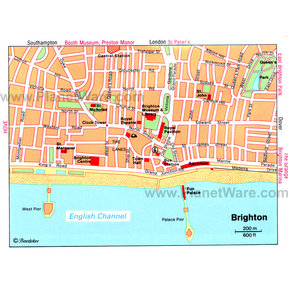 Brighton Map
More Brighton Attractions
Popular Destinations Nearby