Eisenstadt-Unterberg and Eisenstadt-Oberberg
The districts in Eisenstadt west and northwest of the palace are known as Eisenstadt-Oberburg and Eisenstadt-Unterberg (around the former Jewish quarter) respectively.
Related Attractions
Burgenland Provincial Museum
Northwest of Esterházyplatz in Eisenstadt stands the Burgenland Provincial Museum (Burgenländisches Landesmuseum), a complex of several buildings including houses from the old ghettoes. The museum has a fine collection illustrating the history, folk art and natural history of the province. There is also an interesting display of the bird life of the Neusiedler See.
Jewish Museum
Local Jews still lived in a ghetto in the Eisenstadt-Unterberg portion of Eisenstadt in the earlier part of the 20th century. On the site there is now a Jewish cemetery and a Jewish Museum (corner of Wertheimergasse).
Kalvarienberg
Eisenstadt's Esterhäzystrasse leads up to the artificially constructed Kalvarienberg (Calvary Hill), with steps up to the Chapel of Mercy (1701-07), the start of a Way of the Cross which leads through chapels and caves and also in the open air, with numerous painted wooden figures lining the route.
Church on the Mountain
On the top of an Eisenstadt mountain stands the Bergkirche (Church on the Mountain, 1715-72), a massive round building with low towers. Inside is a domed ceiling with frescos depicting the Ascension, together with groups of people in idyllic surroundings.
Bergkirche Haydn Mausoleum
Below Bergkirche's north tower (to the left of the entrance) in Eisenstadt is the mausoleum of Josef Haydn; it was donated by Prince Paul Esterhäzy in 1932 on the occasion of the bicentary of Haydn's birth (Haydn was buried in Vienna, but his remains were later transferred to Eisenstadt).The church at the Birkirche mausoleum contains one of the organs played by Haydn.
Map of Eisenstadt Attractions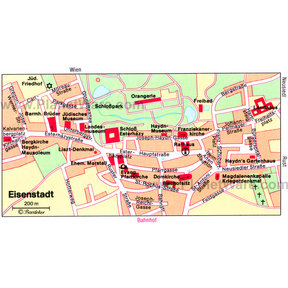 Eisenstadt Map
Popular Destinations Nearby