Surroundings, Temple of Luxor
Related Attractions
Figures of Rams
From the Temple of Luxor a paved road flanked on both sides by recumbent figures of rams, with the effigy of Amenophis III between their fore legs, led to the temples of Karnak. The avenue of sphinxes at the entrance to the Temple of Khons at Karnak is a relic of this.
Small Temple
Between the colonnade of the Temple of Luxor and the corniche road along the Nile are the remains of buildings of the Late Period, including a small temple with a few elegant columns still standing erect.
Medamut
5mi/8km northeast of Luxor, amid the houses of a village in the cultivated land, are the ruins of the Temple of Medamut, the ancient Egyptian town of Madu which was the northern neighbor of Thebes.During the Old Kingdom there was a temple here dedicated to the falcon headed war god Month and his sacred bull. Under the Middle Kingdom it was enlarged and rebuilt by the Kings of the 12th and 13th Dynasties, in particular by Sesostris III, and this process continued under the New Kingdom reflecting the increasing importance of the deity honored here.The remains of the temple as we see it today date from the Ptolemaic period (third century B.C.) and Roman Imperial times. Oriented from west to east, the temple differs in many respects from other Ptolemaic temples. The precinct, enclosed by a brick wall, was entered by a gateway built in the reign of Tiberius, now collapsed. In front of the pylon like main front of the temple were three curious kiosks from which doors gave access to the large colonnaded court decorated with reliefs of Antoninus Pius. On the far side of the court was the façade of the vestibule or pronaos, five columns of which are still standing; the two middle columns, flanking the doorway, have elaborate foliage capitals, while the other three are papyrus cluster columns with closed capitals. Beyond the vestibule are a small hypostyle hall, two antechambers and the sanctuary, adjoining which are several chapels. Beyond the temple proper, which had corridors along the north and south sides, was a separate shrine for the sacred bull. Along the base of the outer walls on the north, east and south sides is a relief depicting a procession of Nile gods advancing from south to north with gifts. On the south side is an inscription depicting a Roman Emperor making an offering to the sacred bull, with a reference to the presence of an oracle in the temple.165yd/150m west of the entrance to the temple can be seen an ancient quay, similar to the one at Karnak, which originally had two obelisks. On the paving are scratched footprints and demotic inscriptions left by visitors to the temple.
Map of Luxor Attractions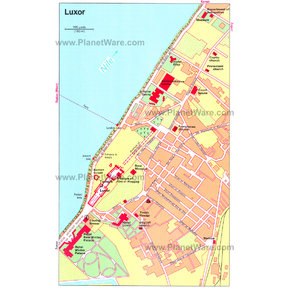 Luxor Map
More Luxor Attractions
Popular Destinations Nearby