Surroundings, Cairo
Several towns and attractions are to be found outside Cairo.
Related Attractions
Harrania, Egypt
The village of Harrania, a short distance southwest of Cairo, is noted for its woven carpets and rugs in native designs.
New Heliopolis and Nasser City
To the northeast of Cairo is the modern suburb of New Heliopolis (Arabic Misr el-Gedida, "New Cairo"). Built in 1905-06 on the initiative of a Belgian businessman, it occupies a site reclaimed from the desert under the name of the "Oasis of Heliopolis" which has a more agreeable climate than Cairo, lying as it does some 130ft/40m higher. It is laid out on a spacious plan, with hotels, sports grounds and places of entertainment, and is connected with Cairo by the suburban railroad.
Nasser City
Southwest of New Heliopolis is the still newer suburb of Nasser City, with the Cairo Stadium, extensive sports grounds and recreational facilities, the Exhibition Grounds, the offices of the Department of Antiquities and a massive War Memorial, here, too, is the Tomb of President Sadat (assassinated October 6, 1981).
Cairo International Airport
Farther northeast of New Heliopolis, on the edge of the desert, is Cairo International Airport.
Ausim, Egypt
Some 8mi/13km northwest of Cairo, at Ausim, is the site of ancient Letopolis (Egyptian Khem), capital of the second nome of Lower Egypt, which is referred to in fourth Dynasty texts. The only remains so far discovered, however, date from the Late Period and Graeco-Roman times.
El-Maadi, Egypt
4mi/6km south of Old Cairo in the direction of Helwan lies the residential suburb of Maadi, with modern houses and villas set in gardens (many the residences of foreigners) and a yacht club. Near Maadi a prehistoric settlement (probably of the sixth millennium B.C.), first discovered in 1930, has recently been excavated.
Bahbit
Near the village of Bahbit are remains of a Temple of Isis.
El-Ayyat
El-Ayyat (west bank of the Nile), with the remains of ancient quays.
Map of Cairo Attractions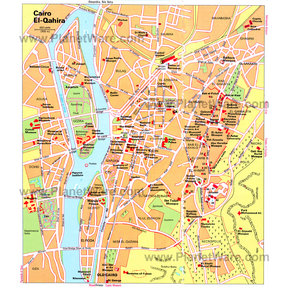 Cairo Map