Szénchenyi utca, Eger
The road leading away from the Lyceum is Széchenyi utca. This busy shopping street in the heart of Eger still boasts a number of 18th C buildings.
Related Attractions
Cistercian Church
The largest building in Széchenyi utca is the twin-towered Cistercian Church (Cisztercita templom) built, like the Franciscan church, on the foundations of a Turkish mosque. Although work was started in 1699 after the Turks withdrew, it was 1733 before the building was complete. Although it may appear rather unprepossessing from the outside, the interior furnishings are of extremely high quality. The artistically sculpted group in Rococo style on the high altar made the name of Johann Anton Krauss from Moravia famous throughout Hungary. The six side-altars are decorated in beautiful stonework.The modern sculpture "Daidalos" (1964) in front of the church is by György Segesdi (b. 1931).
Archbishop's Palace
In the immediate vicinity of the Cathedral and the Lyceum stands the Archbishop's Palace (Érseki palota). This horseshoe-shaped Baroque edifice was built in 1764/66 to the plans of Jakob Fellner and renovated in the 19th C. It retains its original stairwell, which is worthy of note. The wrought-iron gateway opening on to the street is by Lénárd Fazola, the younger brother of Henrik Fazola.
Rác Church
At the end of Széchenyi utca will be found the Serbian Orthodox Church. It was designed in the 18th C plait style by János Povolni in 1799. The interior furnishings, including the richly embellished iconostasis and pulpit, are in the Byzantine/Southern Slavonic style.
Apothecary's Museum
The gabled Baroque building was built in 1763 to plans of Jakob Fellner. Visitors can admire the equipment used by the Jesuit apothecary in 1710.
Carlone House
The architect Giovanni Battista Carlone, a member of the famous Italian family of artists who lived and worked in Eger, built the house for himself in 1725.
Map of Eger Attractions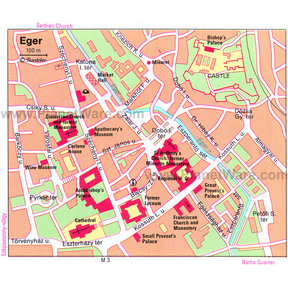 Eger Map
More Eger Attractions
Popular Destinations Nearby