Kossuth Lajos utca, Eger
Kossuth Lajos utca is worth stopping to have a look at the front of several houses on the street.
Related Attractions
Regional Council Offices
The Regional Council Offices (Megyeháza) were built between 1748 and 1756. Note in particular the decorative grilles and lattice-work by the immigrant German metal smith Henrik Fazola (1730-79) - the decorative grille above the entrance with the gilded wooden figures symbolizing the three virtues of Faith, Hope and Charity, and the magnificent gates on either side of the great archway. The left-hand one is embellished with flowers and tendrils, and that on the right with the stork coat-of-arms of the Heves region and the coat-of-arms of Archbishop Barkóczy who commissioned the building. These two gates rank as Fazola's masterpiece.
Franciscan Monastery
The former Ferences kolostor, a simple building diagonally opposite the council offices, was built in the 18th C on the site of a mosque. The monastery church, with its twin-towered front, was designed by the Eger architect Giovanni Battista Carlone in 1736-55. The interior is worth seeing for its uniform Late Baroque furnishings.
Great Provost's Palace
Kossuth Lajos utca, where the senior echelons of the priesthood lived, is reached either through Jókai utca or along the Eger river. About 1775 Jakob Fellner, the architect of the Lyceum, designed the Great Provost's Palace (Nagypréposti palota) at Kossuth Lajos utca 16, a building which is in delightful contrast to the Regional Council Offices opposite. Today it houses the Municipal Library.
Minaret
It is just a short walk from Dobó tér to the slender, 40m (130ft) high Minaret. This place of prayer is the most northerly Ottoman edifice in Europe and a reminder of almost 100 years of Turkish rule. The mosque which went with it was initially used as a church and then pulled down in the 19th C. Visitors are not allowed inside the minaret for technical reasons.
Small Provost's Palace
Where Kossuth Lajos utca enters Szabadság tér, opposite the Lyceum, stands the former Small Provost's Palace (Kispréposti palota), dating from 1758. The balcony grille on the first floor was the work of Henrik Fazola, who also built the oldest preserved iron-foundry in Miskolc. The banqueting-hall is decorated with frescoes by Johann Lukas Huetter and Johann Lukas Kracker (1774).
Map of Eger Attractions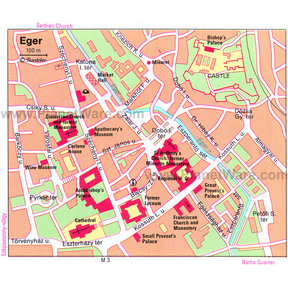 Eger Map
More Eger Attractions
Popular Destinations Nearby