Former Lyceum, Eger
Opposite the Cathedral, on Szabadszág tér, stands the building of the former archiepiscopal Lyceum, now the teachers' training college. Built around a rectangular inner courtyard, the building dominates the square and is one of the most important examples of the mid 18th C plait style. Bishop Károly Eszterházy actually intended it to be a Catholic university when he initially instructed F.A. Pilgram and J.I. Gerl to draw up the plans in 1763. However, by the time the building was completed in 1765 - Jakob Fellner, the Eszterházys' own architect, having meanwhile taking over the designing of it - the climate of the time tended to be against a church university of any kind, so this educational establishment had to be content with being ranked as a lyceum, or lecture hall.The entrance area lies in line with the Cathedral entrance, and is accentuated by the central protruding ressaut. On the first floor above the entrance lies the banqueting-hall, decorated with frescos by the Baroque artist Franz Sigrist; it can be seen by prior arrangement only.In the 53m (174ft) high tower in the east wing is the Observatory with its revolving dome (fine view) and an Astronomical Museum.
Opening hours:
9:30am-1pm; Closed: Mon
Related Attractions
Former Lyceum Library
The most imposing room in the Lyceum building is the Library in the south wing; founded by Károly Eszterházy in 1793, it boasts an impressive ceiling fresco painted in 1778/9 by the Austrian artist Johann Lukas Kracker. The fresco contains a total of 132 figures and represents the meeting of the Council of Trent (1545-63) to discuss the consequences of the Reformation and the revival of the Catholic church. In the four corners of the room the resolutions drawn up by the Council are illustrated - ordination of priests, censorship of books, last sacraments and worship of relics. The architectural aspects of the same event are duplicated in the Late Gothic chapel, which gives an illusionistic impression of height without actually imitating Trento Cathedral in Italy, where the Council met. A trompe l'oeil painted "ledge" which appears to project well out from the wall represents the transition from feigned architecture to more realistic interior furnishings. Some 130,000 books, including 34 medieval codices, are kept in the oak cupboards which were made by the Eger cabinet-maker Thomas Lotter in 1778-80, to designs drawn up by Jakob Fellner. Some particularly valuable examples are displayed in showcases.
Map of Eger Attractions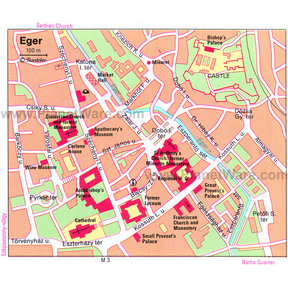 Eger Map
More Eger Attractions
Popular Destinations Nearby