Elk Island National Park & Beaver Hills
About half an hour's drive east of Edmonton, the Yellowhead Highway 16 traverses the park-like landscape of the Beaver Hills, an area once teeming with game. Today this oasis of unspoilt countryside is Elk Island National Park with its sparsely wooded hills, hidden lakes, beaver dams, grassland and moose.The Beaver Hills area was originally the tribal home of the Sarcee Indians.
Entrance fee in CAD:
Family $19.60, Adult $7.80, Senior $6.80, Child $3.90
Useful tips:
The park is open year-round. However, many services and facilities are open only during the summer season.
Related Attractions
Astotin Lake
At Astotin Lake, 23 km (14 mi.) north of the Elk Island National Park entrance on the Yellowhead Highway, there are various leisure facilities (e.g. bathing beach, campsite, golf course, canoe hire). The Interpretive Center here has a great deal of information about the flora and fauna of the Park.There are several waymarked walks around Astotin Lake, in the course of which, with any luck, buffalo, mule deer and moose will be spotted. More patience is needed to catch a glimpse of a beaver by its dam or lodge. Rare bird species can be observed at the lakes hidden away in clearings in the forest.
Map of Edmonton Attractions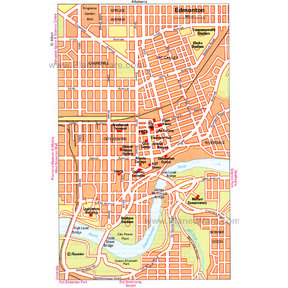 Edmonton Map
More Edmonton Attractions
Popular Destinations Nearby