Canongate, Edinburgh
The Royal Mile becomes Canongate as it enters the elegant district of the same name. The name refers to the Augustine canons who were granted their own parish by David I in the 12th century.
Related Attractions
Moray House
The German novelist and travel writer Theodor Fontane regarded Moray House as the jewel of the Royal Mile, but it has since acquired fame for its marvelous garden. Cromwell established his headquarters in the house during 1648 and the Union Treaty was signed here in 1707.
Huntly House
The city's official museum is housed in Huntly House or Hammermen's House, a half-timbered structure which was commissioned by Countess Gordon ca. 1570. Exhibits include Edinburgh silver and glassware, Scottish pottery and shop signs.
Canongate Tolbooth
On the other side of the road from Huntly House stands the delightful Canongate Tolbooth (1591). Formerly the town hall and prison, the building has dainty turrets around the steeple which are worth a closer look. The building is now a museum which tells "The People's Story" of life and work in Edinburgh since the 18th century. Models, photographs and everyday objects show how industry, commerce and trade developed. The recreated interiors of old shops, workshops, kitchens and private homes plus costumes from yesterday and today complete the picture.
Canongate Church
The cemetery at Canongate Church (1688) is the last resting place of the economist Adam Smith, the poet Robert Fergusson (1753-1828) and Agnes MacLehose, or "Clarinda", of whom Robert Burns was so fond.
Map of Edinburgh Attractions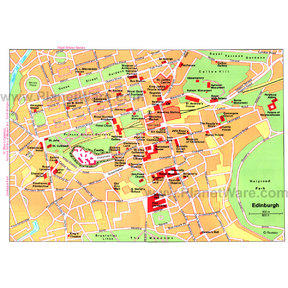 Edinburgh Map
More Edinburgh Attractions
Popular Destinations Nearby