Hibiscus Coast
The Hibiscus Coast is the most southerly stretch of coast in KwaZulu/Natal, extending for 50km/30mi from Hibberdene in the north to Port Edward in the south. To the north of it is the Sunshine Coast. It is at its busiest around Christmas, when many South African families come to spend their holidays here and it is almost impossible to find accommodation in the coastal resorts. At many points the coast is edged by evergreen tropical forest. Innumerable rivers and streams flow into the sea along the coast, forming sheltered lagoons at their mouths.
Related Attractions
Margate
Margate, a town founded in 1919 and named after the popular English resort, is one of the largest and best-known bathing resorts on the Hibiscus Coast. It has numerous restaurants, discos and night spots, mainly patronized by younger holidaymakers. There is an amusement park, water slides, diving platforms, boccia and bowling greens, a roller skating rink, an 18-hole golf course and good fishing and swimming.
Hibberdene, Port Shepstone, South Africa
Hibberdene, 80km/50mi south of Durban, is an attractive bathing resort with long sandy beaches and facilities for a variety of sports. The climate in summer is more agreeable than round Durban, with rather lower temperatures and lower air humidity. To the south of the town is Umzumbe, which also offers good swimming and fishing.
Bendigo
The name Bendigo covers the four holiday settlements of Sunwich Port, Anerley, South Port and Sea Park. The South Port beaches are protected from sharks by nets; Sunwich has a bathing beach surrounded by rocks, also with shark nets; Domba Bay and Sea Park attract many anglers; and Anerley has a seawater swimming pool.
Southbroom (River Bend Crocodile Farm)
Beyond Margate is Southbroom, with two sheltered lagoons and a beach protected by shark nets. Nearby is the River Bend Crocodile Farm, where crocodiles (which had been exterminated in this area by the mid 19th C) are bred and studied.
Marina Beach
Marina Beach is a relatively quiet resort with an immensely long sandy beach which outside the season is largely unfrequented.
Port Edward, South Africa
Port Edward, near the boundary of the former homeland of Transkei, is the last place on the Hibiscus Coast.
Umtamvuna Nature Reserve
This nature reserve on the Umtamvuna River (access road 8km/5mi west of Port Edward on the Izingolweni road) contains some 1,300 species of plants, including many species of trees and 25 species of orchids, within its area of 3,257ha/8,045ac. Narrow paths lead to lookout points with magnificent views. Cape vultures, falcons and eagles can be seen on the rock walls of the gorge, as well as duikers and bushbucks.
Shelly Beach
From Port Shepstone R 61 runs south down the coast to Shelly Beach, a resort famed for its abundance of seashells.
Trafalgar
Trafalgar is a resort particularly favored by surfers. The offshore Trafalgar Marine Reserve was established to protect the unique underwater flora and fauna.
Map of Durban Attractions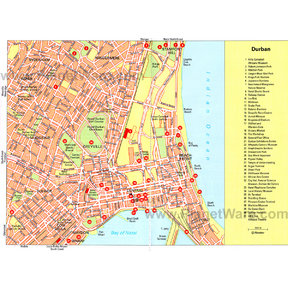 Durban Map
More Durban Attractions
Popular Destinations Nearby