Glamis Castle, Dundee
Glamis Castle (12mi/19.2km north of Dundee) is probably one of Scotland's finest sights. This fairy-tale castle is surrounded by parkland designed by Lancelot "Capability" Brown ca. 1770. The L-shaped castle, most of which dates from the 17th century and was built in baronial style, lies at the end of a long avenue of oaks. A castle is said to have stood on this site 1,000 years ago and most of the time since then it has been the seat of the earls of Strathmore, ancestors of the Queen Mother.
Address:
Forfar, Tayside, Dundee DD8 1QJ, Scotland
Opening hours:
Apr 2 to Oct 31:
10am-6pm
Nov 1 to Dec 31:
10:30am-4:30pm
Entrance fee in GBP:
Family £27.50, Adult £9.50, Students £8.75, Pensioners (OAP) £8.75, Child £7.00, Grounds / gardens only around attraction £5.50
Useful tips:
Last admission 1 hour prior to closing.
Map of Dundee Attractions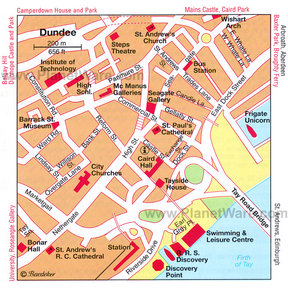 Dundee Map
Popular Destinations Nearby